Posted on 3rd March 2023
Different Types of Marble for Kitchen Countertops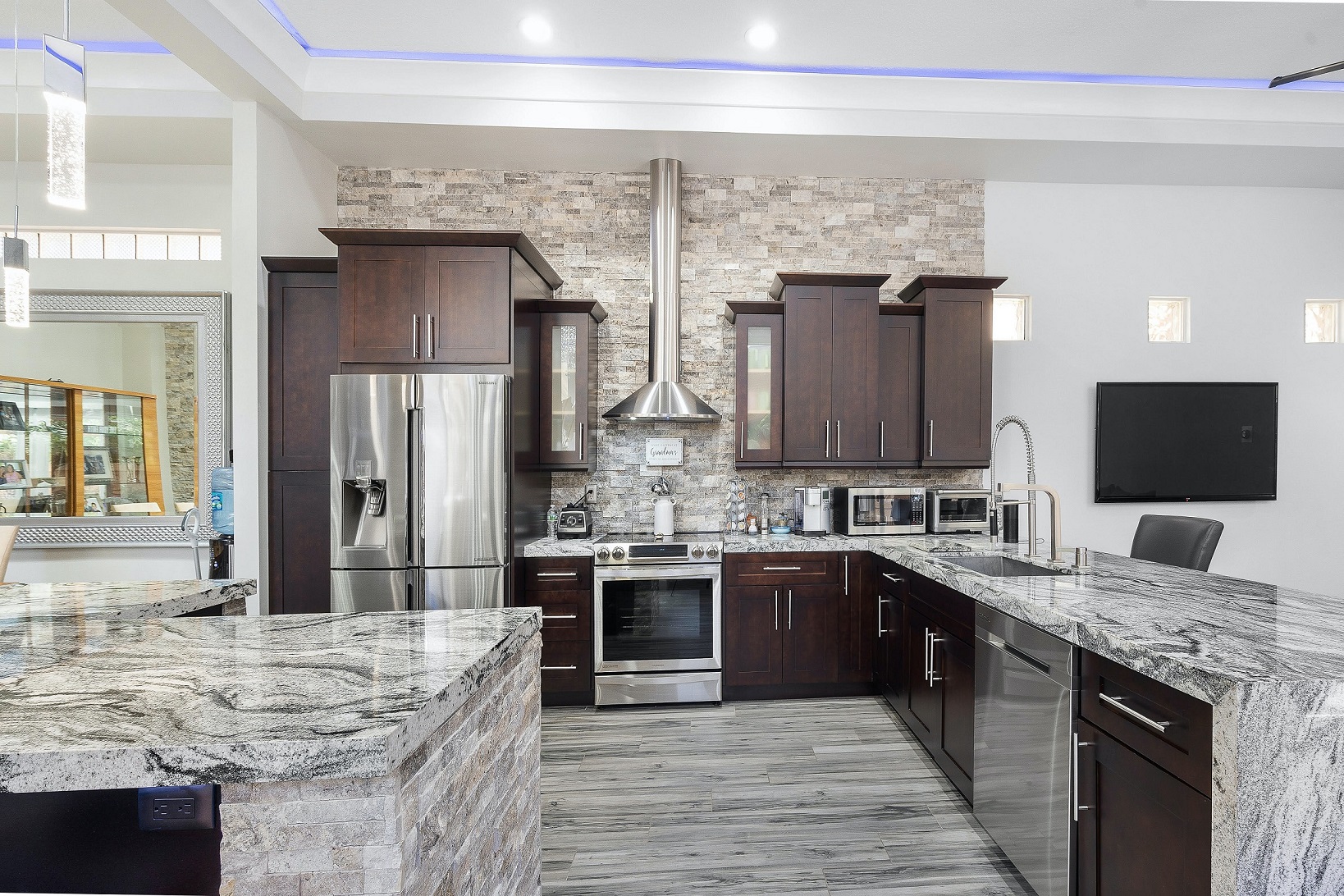 If you're in the market for a new kitchen countertop, marble is likely on your list of potential materials. Marble has been a popular choice for centuries due to its natural beauty and durability. However, there are many different types of marble available, each with its own unique characteristics and benefits. In this blog post, we'll explore some of the most popular types of marble for kitchen countertops, as well as an alternative option that offers even more benefits.
Marble is a popular choice for kitchen countertops because of its durability and beauty
Marble kitchen countertops are a classic choice for any kitchen. Its durable nature and stunning beauty make it timelessly captivating. Not only does marble instantly add elegance to your space, but it is also highly resistant to scratches and staining. This makes it an ideal choice for busy households as well as kitchens with frequent entertaining, as you don't have to worry too much about day-to-day wear and tear. If cleanliness is your top priority in the kitchen, marble is a great choice as its surface easily wipes off spills and splashes. With thorough care, a marble countertop can last you up to 25 years or more – and all the while retaining its elegant appeal without losing the vibrancy of quality!
There are many different types of marble, each with its own unique characteristics
Marble is a beautiful and versatile material, with many uses in buildings, statues, accents, and more. Its elegant look draws the eye to any environment. One of the best things about marble, however, is its variety. With dozens of varieties available ranging in colour from traditional white all the way to vivid reds and blues, there's something to suit everyone's tastes. Different types of marble also have unique characteristics when it comes to strength and durability; some are harder than others while some have intricate veining and swirls.
Some of the most popular types of marble for kitchen countertops
Marble is the perfect way to add sophistication and timeless beauty to your kitchen. It's no surprise that it remains one of the most popular materials for countertops around the globe. From classic white marble to gold-flecked varieties, there are plenty of options on the market. Bianco Carrara, Calacatta Gold, and Arabescato Calacatta are some of the most sought-after types of marble for kitchens – each offering something unique to elevate a space. Whether you're looking for subtle elegance or dazzling drama, marble countertops provide a hint of luxury at an accessible price point.
Each type has its own advantages and disadvantages, so you will need to decide which one is best for your needs
Not all marble is created the same – each type of marble for kitchen countertops has its own benefits and drawbacks. Whether you prefer the timeless charm of Carrara Marble or dream of an exotic touch given by Onyx, doing research into each kind will help you find what's best for your kitchen environment. Consider factors such as how easy it is to maintain, how susceptible it is to staining and chipping, and if you need backsplash protection from any splashes of water.
Consult with a professional installer to get help choosing the right type of marble and installing it correctly
When it comes to installing marble in your home, it's essential to get professional assistance. Consulting a skilled installer is the best way to make sure you select the right type for your needs, and that it's installed in the most optimal way. Not only will they know exactly which marble will be most suitable based on your requirements and budget but they'll also handle all of the tedious details that come with the installation. From a variety of different styles to finish choices, getting professional help can take hours of research off your plate.
There are many different types of marble available for kitchen countertops, each with its own unique characteristics and benefits. From classic Carrara to bold Calacatta, the options are endless. However, it's important to think about all your choices before making a decision. If you're looking for a material that offers even more benefits than marble, such as being non-porous and low maintenance, porcelain benchtops and kitchen countertops may be the perfect choice for you. Whatever material you choose, make sure it fits your lifestyle and design preferences to create the perfect kitchen space.