Posted on 28th November 2022
Custom Infrared Sauna Installation: Top 5 Things Builders Should Know
Today's post-pandemic homeowners want their living spaces to support their health goals, and a custom infrared sauna from the world's leading infrared sauna manufacturer is the perfect solution. It's not hard, or complicated, to install a custom infrared sauna when you work with infrared sauna experts for design and materials. However, quality, convenience, and beauty matter.
Dustin Stevens, Sunlighten's custom sauna director, founded the custom division of the global manufacturer in 2019 after six years overseeing design, manufacture, and installation of prefab cabins. Sunlighten has helped builders create hundreds of custom infrared saunas for businesses and residential construction, professional sports training facilities and remodels. Every project is overseen personally by an experienced Sunlighten Custom Consultant from start to finish.
Here are 5 things Stevens says builders should know about custom infrared sauna buildouts: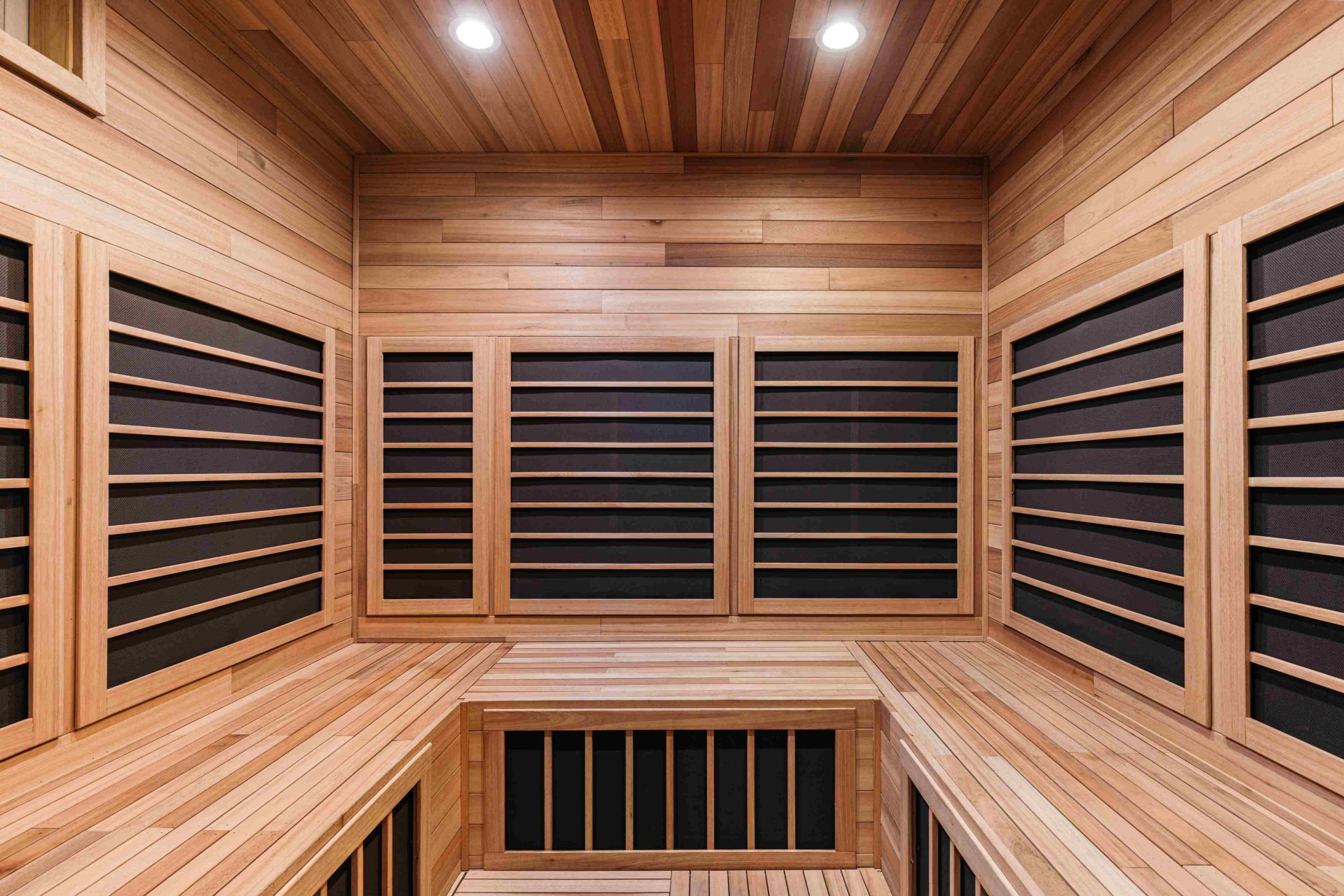 1.   Building it is simple – all you need is a trim carpenter and electrician to install.
Custom sauna buildouts with us are easy. Most builders we work with initially think they need to subcontract a specialist. You don't have to sub it out and you don't need sauna experts to install. All you need is a trim carpenter and electrician. We give you everything else you need. We make installing a custom sauna easy and eliminate the need for additional labour. You can also opt to hire Sunlighten's install team to do it for you.
2.   You don't have to be infrared experts; we are.
Our Full Support Team supplements your expertise with our infrared expertise. Once we get your blueprints, our team designs a sauna to suit the space with consideration of heater placement and all the details homeowners care about (bench design options, finish colours, creative wood patterns, unique floor designs, special features, lighting, door treatment, etc.).
When you approve final interior and exterior 3D CAD line drawings, we review the process with you and the materials ship within the week. Design to delivery timeline is about 4-6 weeks.
3.   You don't have to worry about materials—we provide all materials and ship to the job site.
That includes wood for walls, ceiling, floors, benches, control panel, and all the infrared heater cabinets. We pack everything in a secure crate shipped directly to the building site, ready to install when you decide the timing is right.
4.   Turnkey timelines fit within your build process.
The first step in installation is supplying the sauna power. A standard sauna will require a 240v dedicated circuit that can be roughed in any time before the walls are enclosed. Once the power is brought in, it should take the electrician around one day to bring the power into the sauna, make all the heater connections, and have the sauna ready for the carpenters. After electrical is done, the carpenters can finish out the space with wall cladding and the benches. Depending on the sauna design and size of the space, the entire process should take 3-5 days to complete.
5.   Installing an infrared sauna is a lot less complicated than traditional saunas, steam rooms or hot tubs.
Infrared saunas are dry and simple. No plumbing required; no chance of mould. And, no time-consuming drywall, mud and taping. Sunlighten's materials are top notch—sauna wood is dry kilned for up to 70 hours. You can rest assured the tongue-in-groove pieces are cut right. And we provide easy-to-install instructions and full installation support including communication and coordination with the electrician.
Adding a custom infrared sauna in a master bath or gym (like the custom sauna designed for MLB legend Adrian Gonzalez's home gym, for example) creates a beautiful wellness space that makes being healthy easy and pleasurable for home and business owners. Matching the design to their aesthetic creates flow with their environment and lifestyle. They get exactly what they want and something no other home or business has without creating a construction headache. It's an easy win-win for your customer, and you.
About Sunlighten:
Shining light on infrared technology, Sunlighten® is the #1 choice for personalized infrared light treatments. Since 1999, we have been committed to innovating wellness products and services that empower our customers to improve their quality of life. Our patented SoloCarbon® technology rejuvenates the body by delivering the highest dose of infrared energy to the body – proven up to 99% effective. Our technological innovations are fuelled by passion to give people the opportunity to feel great so they can do more of what they love. Sunlighten is building a global community of businesses, consumers, and trusted experts to support each other along the way and to bring light, hope and happiness to people everywhere.