Posted on 3rd August 2023
Commercial & Residential Cleaning Company of the Year 2023 – the Cayman Islands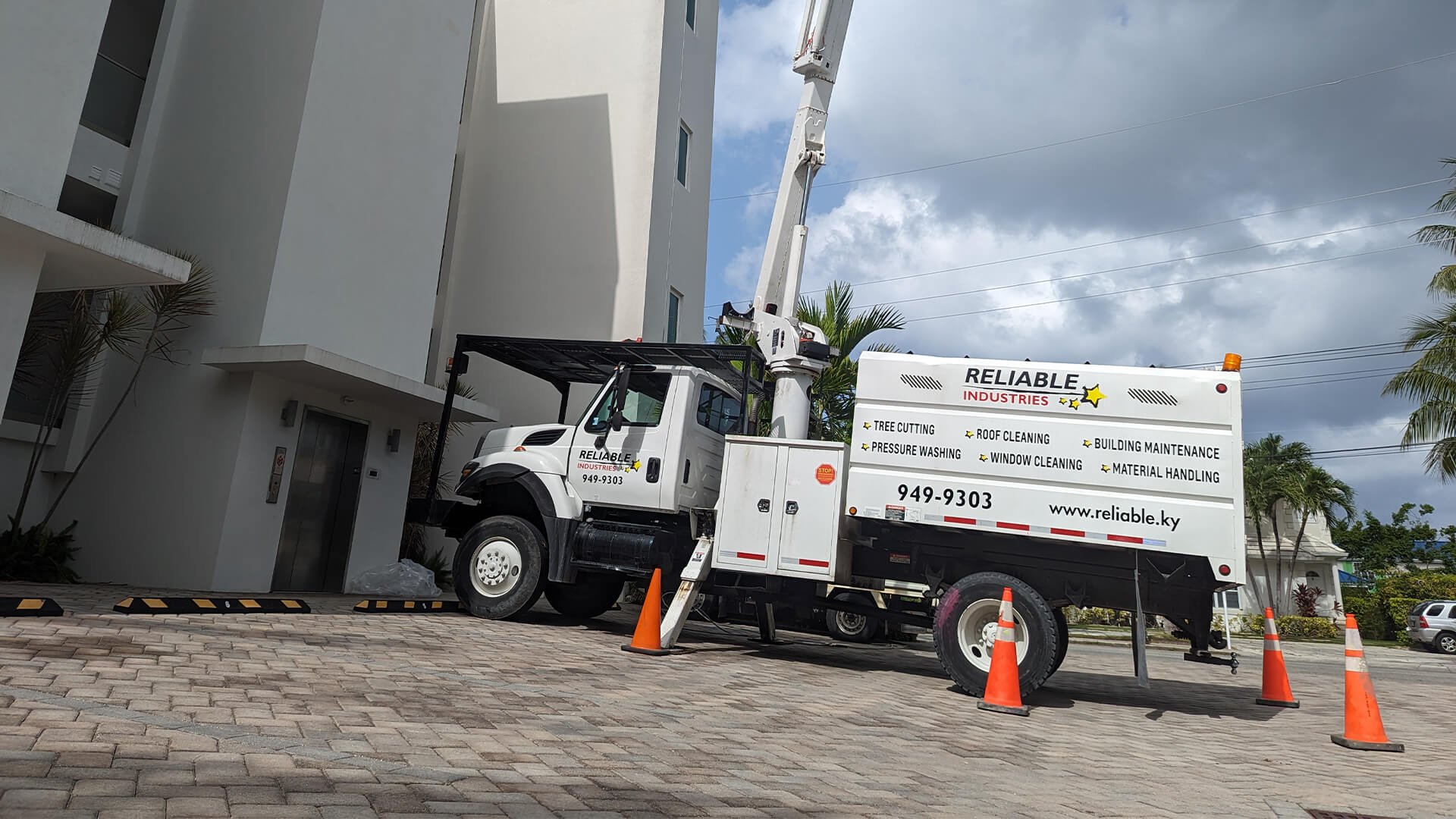 Family owned and operated Reliable Industries Ltd offers janitorial services for commercial, industrial, and residential properties. Based in the Cayman Islands, the company takes enormous pride in understanding the needs of each individual client, and fine tuning its services to the absolute optimal level.
Sharon and (the late) Steve Smith founded Reliable Industries professional cleaning services in 1990 from their Cayman Islands home. Over its 33 years of operations, the company has risen to become an employer of 150 persons from all over the world, based at its 25,000 sq. ft building, and 10,000 sq. ft warehouse. It offers a wide range of services catering to markets including residential, commercial, and industrial. This includes, but is not limited to, exterior building washing, exterior cleaning works, residential maid services, steam cleaning of carpets, upholstery, and other fabrics, building maintenance, high rise window cleaning, tree trimming and pruning, boom truck lifts, flood extraction services, drying equipment rental, mould remediation, fire restoration, post construction cleaning, floor stripping and waxing, marble and stone cleaning and/or polishing, and other restoration services.
Its clients might come from long-standing residential maid service accounts, or large commercial businesses such as supermarket chains or major facility management accounts. It prides itself on being able to handle and cater for a diverse array of clientele, with current in situ services catering for clients occupying over 1 million sq. ft of space. As a facility management and a cleaning company it is essential for Reliable Industries to specialise in many different facets of high-level cleaning and restoration. To do this effectively it focuses intently on facilitating on-going training and further education programmes for its field teams in all of their various capacities.
Reliable Industries utilises the most technologically advanced and efficient cleaning systems available across the entire range of its services, and it continuously re-invests to ensure it is always operating at the cutting edge. It can work with clients all the way through from initial project planning stages to construction, and the post construction cleaning phase. After that, Reliable Industries will ensure final polishing is completed, concentrating on any minute details that need attention before the final building handover is achieved. Once the project is finished, Reliable Industries seeks both to maintain and further establish its partnerships with cleaning and facility management services for years to come, making it a valued partner from inception to completion.
"The company offers a wide array of services, be they commercial, industrial, or residential. Everything from office cleaning to restaurant cleaning, garbage removal and mould remediation, post construction cleaning and tree cutting is possible. Our diversity of services can be described as an all-encompassing and self-sufficient operation."
Reliable Industries has recently worked on a newly built 10-storey commercial office building. It had been contracted to clean and prepare for its grand opening, but given just two weeks' notice! Even with this extremely limited timeframe, it was delighted to achieve everything with aplomb. There was a mix of services required such as marble floor polishing and sealing, internal and external window cleaning, power washing of numerous surfaces, internal dusting and polishing, steam cleaning of carpet and upholstery, and more. It engaged 10 teams to execute these services on such a tight deadline, managing to complete everything within the allotted time. This was testament to the amazing field management and technical operatives, who performed works on an 18-hour shift pattern absolutely flawlessly.
Reliable Industries company tagline is 'Cleaner Spaces, Healthier People', and it is proud to stand behind this ethos. It celebrates its business core strengths of integrity, excellence, and providing value for its customers as the driving force behind its success, as well as the vision that will see it continue forward towards a prosperous future. Reliable Industries understands that in any business there will always be unforeseen circumstances to navigate and snagging points that arise, however it feels that acknowledging problems and providing timely solutions is the key to ongoing success and client retention.
Working in such a competitive industry, Reliable Industries differentiates itself in numerous ways. In the Cayman Islands, where it is based, it is the only commercial cleaning firm that is 100% Caymanian owned and operated, with a clear business model and company culture it prides itself on imparting to all its employees. It is a member of the International Sanitary Supply Association (ISSA) which ensures its staff are trained to the highest of standards on a continuous basis, and practice the very best hygiene processes. It considers its unique selling point as being the extent to which it values the diversity of its clients, and their varying needs. It is always willing to accommodate and execute clients' requests, even if it means creating a service for them that was not previously on offer.
"Reliable Industries Ltd. was humbly founded in the home of Steve and Sharon Smith in 1990. Steve was always passionate about the business and how to improve and build upon what had already been established. This meant expanding into different services and always seeking to provide the customer with the utmost care."
As a family operated business, Reliable Industries prides itself on presenting a friendly, small-family approach even when facing large-scale operations. It treats both clients and staff as members of its family, with their needs at the forefront of everything it does. It makes certain that all its employees are offered in-house training programmes regularly to align their skills with their jobs, maintain excellence, and ensure they feel equipped and confident in their jobs. For those seeking career progression, the company provides many opportunities for staff to be promoted within the company. Indeed, it boasts many team members who have been working with the company for over 20 years. Reliable Industries truly values its staff, and its fabulous company culture resolutely reflects this.
Due to the rising cost of living and inflation in the Cayman Islands, the housing market has made rental properties somewhat unattainable for many workers within the professional cleaning industry. That's why one of Reliable Industries' major goals for the future is to develop a housing facility dedicated to its staff. It wants to ensure its valued personnel have stable and economically sound living spaces for generations to come. Such an endeavour would provide so many benefits for all the parties involved, but undoubtedly it would especially improve the quality of life for Reliable Industries cherished staff. With regards to future goals for its esteemed clientele, the company wants to continue servicing its Caymanian community in the most ethical and economical way possible whilst continuing to provide the excellent, high-quality service it is known for.
Reliable Industries has been awarded the title Commercial & Residential Cleaning Company of the Year 2023 – the Cayman Islands, in the Facilities Management Awards. This remarkable and diligent company really stands out as a superb example of how to run commercial, industrial, and residential cleaning services, and wholeheartedly deserves this prestigious honour.   
For business enquiries, contact Jason Smith from Reliable Industries Ltd on their website – www.reliable.ky