Posted on 26th April 2016
Building Work Starts on £20m Luxury Four-star Hotel in Edinburgh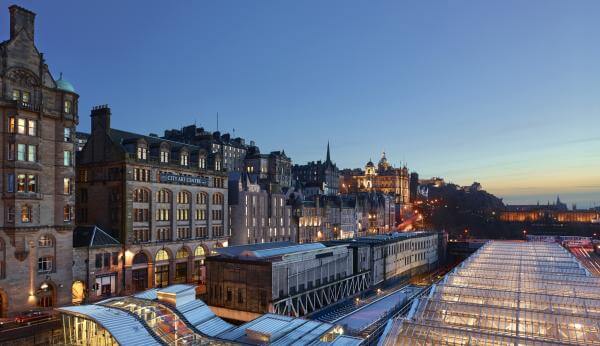 Carlton Hotel Collection and EDI to deliver four-star hotel on Market Street
Edinburgh's ambition to provide more luxury accommodation for future visitors received a major boost today, after work started on a new £20m four-star hotel in the city's Old Town.
The 98 room boutique hotel is the first venture in Edinburgh by European operator, the Carlton Hotel Collection, and is being delivered in partnership with The EDI Group Ltd.
Having received international recognition at MIPIM Future Awards for its innovative design plans to create a building that complements its historic surroundings, the development will transform a key under-used site on Market Street, located next to Craig's Close, which has remained vacant for more than 50 years.
Situated within the UNESCO World Heritage and Old Town Conservation Area, construction of the hotel also marks the completion of the last remaining gap site on the northern boundary of the Old Town, between Edinburgh Castle and North Bridge.
Due for opening in spring 2018, visitors to the hotel will be able to enjoy a top floor lounge with panoramic views across the Waverley Valley from Princes Street Gardens to Calton Hill.
Councillor Gavin Barrie, Chair at The EDI Group Ltd, said: 'Delivering an outstanding luxury hotel in the heart of Edinburgh's Old Town is a significant moment for the city's tourism and leisure industry. The design of the building carefully balances old and new to support the city's heritage status and we're delighted that a key under-used site for the city will be brought back into use for residents and visitors to enjoy'.
Alfred Bree, Managing Director of Hotel Management Int. Ltd. (purchaser) and Carlton Hotel Collection (operator), said: 'All of us at HMI and Carlton Hotel Collection are delighted that the construction of the new Market Street Hotel has started. Together with EDI (developer) and all other partners, we have been working very hard to plan and design a very special lifestyle hotel that is unique for Edinburgh.
'The hotel product has been designed by the award-winning interior design company, FG Stijl, with offices in Dubai and Amsterdam. Situated in its historic location, Market Street Hotel will offer 98 design rooms and a one of a kind top floor Penthouse lounge and bar, with spectacular views over Edinburgh.
'The interior design of this hotel will reflect the heritage of the location and will meet all demands of the international modern traveller. All at Carlton Hotel Collection are looking forward to the successful development of this historic site and to welcoming all in spring 2018'.
Construction services company, ISG, has been appointed as the main contractor for the project.
Andy McLinden, ISG's Scotland regional managing director, commented: 'Our strong hospitality credentials and first-rate reputation for delivering complex schemes in logistically challenging city environments proved highly influential in our appointment to this prestigious project.
'ISG is set to play a key role in transforming the bold vision for this key regeneration site into an outstanding hotel that will set the standards for all future luxury hospitality developments in the city.'
The Carlton Hotel Collection, founded in 1985, is part of Hotel Management International, which owns, operates and manages ten quality four-star hotels in the Netherlands, Belgium, England and Scotland.