Posted on 28th October 2015
3D Repo's winning platform: BIM Project Wins Canary Wharf Award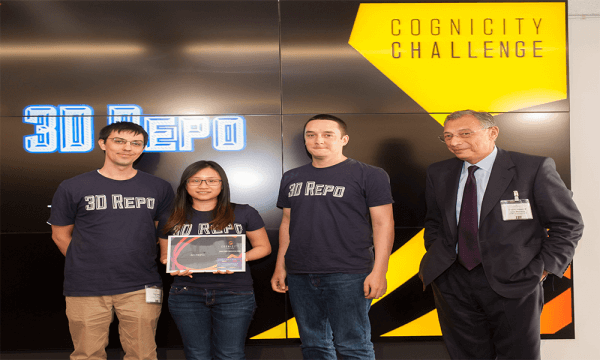 3D Repo have won the 'Virtual Design and Construction' section of the awards with their open source Building Information Modelling platform.
3D Repo's winning platform is an open source Building Information Modelling system which enables better collaboration on construction projects.
The firm, which specialises in open source technology, won in the third wave of the Canary Wharf Group's Cognicity Challenge, which was created to help identify ground-breaking technologies in the construction industry.
The 'Connected Home' stream of the challenge was jointly won by BlockDox and Puckily, who will share the £50,000 cash prize and collaborate on the piolet scheme. Puckily's innovation allows a range of devices around the home to be connected and controlled remotely, while BlockDox has developed an app which enables residents to perform everyday tasks, such as organising repair work and contacting management, more quickly and easily. The combination of the two will create a technological tool capable of significantly improving the ease with which home repairs are managed.
The challenge was created in conjunction with Cognicity, a smart city accelerator programme designed and delivered by ENTIQ for Canary Wharf Group. The program aims to support the development of ground-breaking technologies, drawing on the expertise of CWG executives and a number of industry leaders including Intel and ARUP.
Sir George Iacobescu, Chairman and CEO of Canary Wharf Group, described the program in his comments on the award.
'We chose to run the Cognicity Challenge to identify companies and technologies which will help ensure that Canary Wharf Group's developments remain among some of the most advanced in the world. Collaborating with 36 startups has provided the opportunity to appraise our own processes and understanding of innovation in the smart cities arena, at the same time as helping shape their thinking and products. We are looking forward to the piloting phase and its outcomes.'
Claire Cockerton, CEO and Chairwoman of ENTIQ, added a comment on the subject of the awards.
'This is just the beginning of an incredible journey for 3D Repo, Puckily and BlockDox. Their solutions will drastically improve the way we plan construction projects and interact with our homes. A procurement model like Cognicity is one of the best ways of ensuring lasting, authentic innovation which has the power to transform the urban environment as we know it.'