Posted on 19th June 2023
Best Spa & Wellness Resort Transformation 2023 (USA) – The Grand Lodge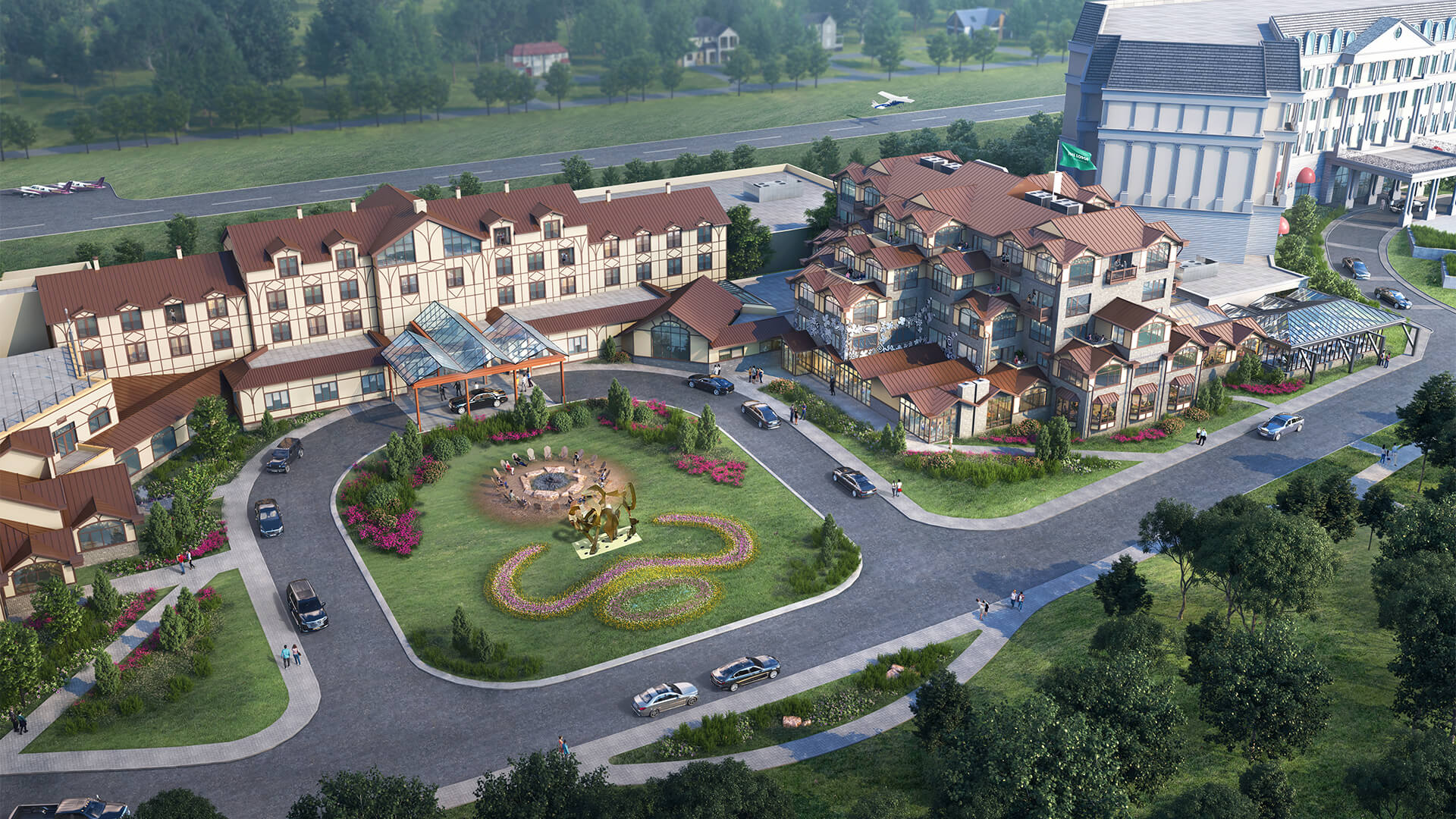 Since 1987, Nemacolin has been creating magical moments that are simply unforgettable. Tucked within Pennsylvania's Laurel Highlands and covering 2,200 acres, Nemacolin offers guests a getaway like no other. With the thrilling grandeur of The Chateau and the modern elegance of Falling Rock, visitors will be inundated with tasteful design and luxe accommodations throughout the property. Undergoing a transformation and reimagination, The Grand Lodge at Nemacolin has people from all walks of life excited to witness its unveiling.
Nemacolin is renowned for its undeniable style and its overwhelming attention to detail, so when it announced its intentions to completely reform The Grand Lodge, it had guests, members, and associates alike eager to see how it would once again redefine the meaning of luxury architecture. And with its opening date of August 2023 steadily approaching, Nemacolin has enthusiasts on the edge of their seats. The Grand Lodge is shaping up to be Nemacolin's most ambitious project yet, and the team's incredible passion for the whimsical and wonderful guarantees an exquisite result that will leave guests spellbound.
However, to truly understand the tantalising nature of Nemacolin's most recent transformation, we feel it essential to first explore its existing facilities and how they capture the meaning of real luxury. And with a vast array of amenities available to guests and members alike, Nemacolin has managed to cultivate an astonishingly magical atmosphere that spans its entire 2,200-acre reach. From award-winning experiences fit for all ages, to spa and wellness treatments that'll effortlessly refresh and recharge any guest, Nemacolin boasts an expansive list of opportunities, experiences, activities, and seasonal events.
Though Nemacolin started as small hotel with 500 acres of land which Mr. Hardy gifted to his daughter Maggie, it quickly became an exclusive getaway hotspot for guests across the globe. Now serving as a prime location for families, couples, and individuals alike to experience true tranquillity, the property upholds its founder's legacy in a way that's nothing short of inspiring. It's become a resort that encapsulates a whimsical spirit unlike any other, and it does so through its hand-picked selection of both indoor and outdoor activities and thoughtful architecture.
Nemacolin embodies the prospect of well-rounded travel and has something for absolutely any type of person from any walk of life. It offers two Pete Dye-designed championship golf courses and Orvis-designed fly fishing for sports enthusiasts, as well as a multitude of activities suited to anyone looking to stay fit whilst they unwind. But if relaxation is the aim, Nemacolin boasts an impressive range of treatments and holistic therapies to soothe guests looking for rejuvenation. In addition to this already staggering selection of opportunities available to any member or guest, it also grants visitors the chance to enjoy fine art and architecture in a way that they never have before.
And if guests are looking to hire a luxurious space for any event of their choosing, Nemacolin offers 35,000 square feet of space for meetings, weddings, and corporate retreats to take place. It aims to bring magical moments to life and does so through its astounding attention to detail and incredible prowess in customer service. By combining this with its gorgeous grounds and the jaw-dropping design of its variety of bars, restaurants, and lounges, Nemacolin has managed to forge a unique events experience tailored to each individual need.
Of course, its dining facilities aren't only limited to events. On the contrary, Nemacolin presents guests with exclusive avenues to cater to each and every palate, with each space representing a different type of cuisine, culture, and style. Its most notable, however, is its most recent project – The Bleu Room. Formerly the Lafayette Hospitality room, The Bleu Room encapsulates the whimsy that Nemacolin is founded upon and expresses it in a way that's seldom been attempted before.
Thanks to the design team's acute understanding of effective architectural design, Nemacolin has managed to create a space that feels truly magical. Hidden away behind a secret door and shrouded in the utmost secrecy, The Bleu Room boasts an exclusive experience for any guest fortunate enough to uncover its whereabouts. Within, it provides a wondrous experience that's accompanied by only the best tea, craft cocktails, and light bites. All of which are delivered by a uniformed staff of magic makers who each encourage a spellbinding atmosphere that perfectly combines elegance and mystery.
Nemacolin's The Bleu Room is a product of PJ Magerko Liquorice's vision, partnered with Maggie Hardy's overwhelming support. Their joined prowess, as well as Smith McLean and Motoki Asaoka's incredible mastery over their respective design skillsets, allowed for the creation of an ultra-luxury space that's suited to guests and members alike. Its nature is indescribably unique, and it's all thanks to the overarching ethos that Nemacolin adheres to when considering any new project: creating "real life magic."
Nemacolin weaves this magic into each and every aspect of its facilities, however, it's particularly captured in the recent and upcoming transformation of The Grand Lodge. Thanks to the expert minds and skillsets of 84 Lumber, Martik Brothers Inc, Moncur Design Associates Inc, and Gensler, Nemacolin has equipped itself with only the best of the best when it comes to design and execution. These masters of their crafts have worked together alongside the Hardy family to understand the needs of Nemacolin's guests and members and its vision for the future of the resort. As a result, The Grand Lodge demonstrates aninspiring collaboration between utility and elegance that's designed to leave guests awestruck.
When learning a little more about The Grand Lodge's transformation, we discovered that it will have 56 suites available for guests to choose from, each with extended spaces to provide them with more indoor comforts than ever before. Additionally, the majority of suites will offer a Juliet or walk-out balcony, granting occupants the chance to enjoy an outdoor element of their suites, all whilst enjoying the breathtaking views of the resort. Nemacolin knows that its gorgeous grounds simply can't be missed, and therefore makes the views accessible from many rooms within The Grand Lodge.
Though its design is undoubtedly beautiful in every sense of the word, The Grand Lodge will still capture the whimsical and woodsy charm upon which the foundations of Nemacolin are built. Every aspect, from the interior design to the color palettes, helps to emphasize this sense of enchantment, with its exterior also lending itself to the overall theming of the building. This is all tied together by the carefully selected elements of the lobby, which will be completely transformed to better suit the vision proposed by the team.
Upon entering The Grand Lodge, guests will be met with a lobby that houses a spectacular split staircase, framing a statement fireplace. This, accompanied by the upscale décor and furnishings, enhances the glamorous and magical elements for which the resort is known, and serves as a reminder to guests that they're in for a retreat that has all of their best interests in mind. And The Grand Lodge's majesty doesn't end there – it will also be outfitted with a study and a new cocktail lounge to act as a late-night hideaway.
As a final touch of elegance, the currently named Rockwell's restaurant will be renamed to Fawn and Fable as it is expanded upon by the brilliant team of experts. With increased size, it will be able to offer more seating for anyone looking to enjoy a perfect dining ambiance, whilst also establishing an intimate atmosphere that'll nurture the needs of any guest. Every detail has been carefully considered, all to transform The Great Lodge into a spectacle that will be proud to call Nemacolin home. Its reimagining will elevate it to a worldwide measure of luxury, the likes of which have not been seen throughout the USA thus far.
Nemacolin understands what "special" means. It is keenly aware of the fact that guests deserve luxury, and that it's only possible through tasteful design choices. Every inch of its grounds have been meticulously crafted to provide the best to each and every guest, no matter their status or background. To Nemacolin, guests should be impressed upon arrival, and its newest transformation project seeks to accomplish this better than any other facility within the grounds. We eagerly await The Grand Lodge's opening in August 2023, and we look forward to seeing all guests, new and returning alike, appreciate the hard work and dedication that has gone into crafting this architectural masterpiece.
For business enquiries, contact Jennifer El Khessassi from Nemacolin on their website – https://www.nemacolin.com/#real-life-magic