Posted on 13th February 2023
Beating the Winter Blues: Try These 5 Affordable DIY Projects Today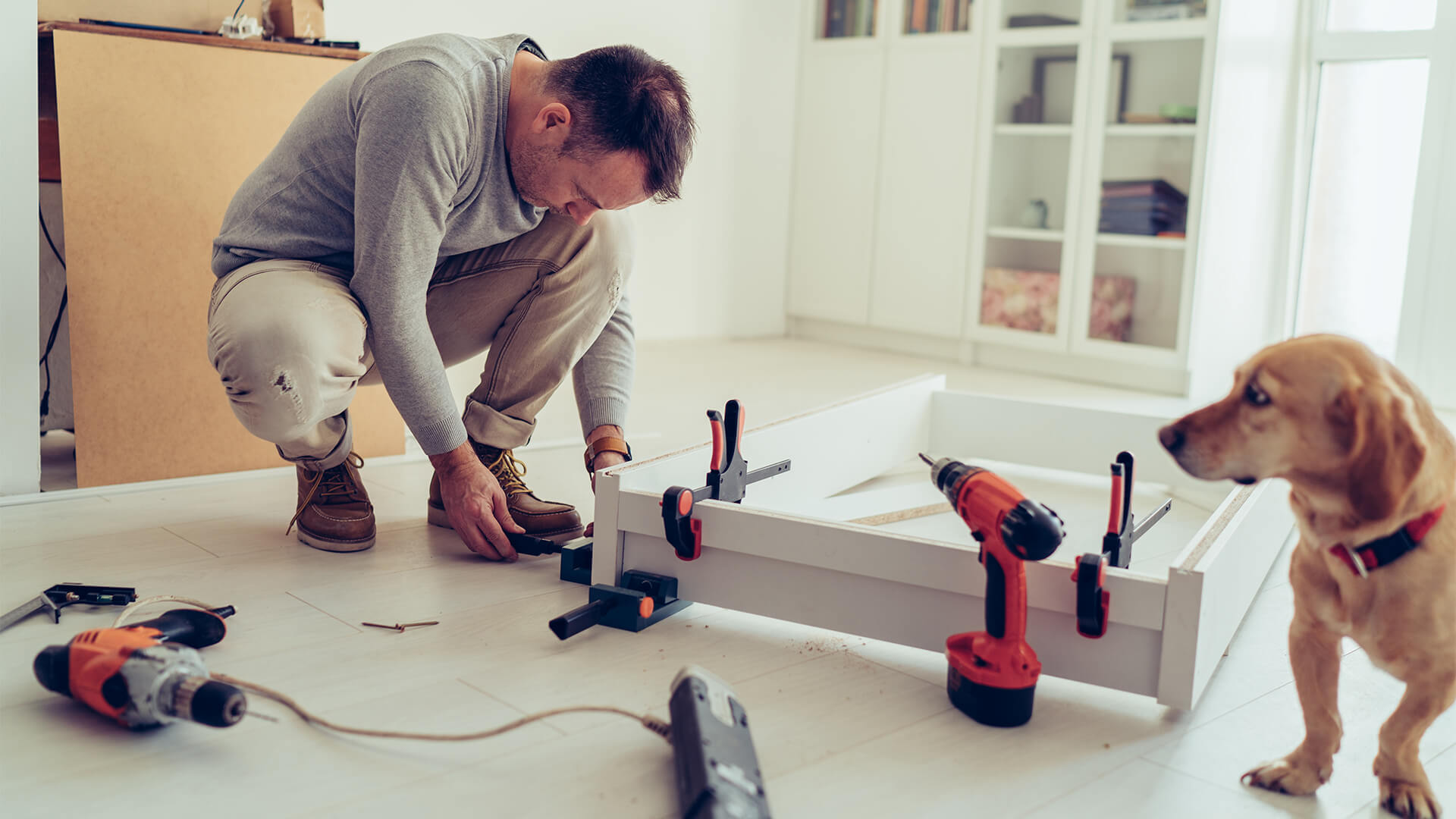 DIY projects are great if you're looking for ways to beat the winter blues. In fact, learning a new skill, including interior decorating and DIY, can significantly improve mental wellbeing, boost self-esteem and help you connect with others.
Seasonal Affective Disorder (SAD) affects one in five people in the UK and is caused by the reduced amount of sunlight we get in the winter. By redecorating your home with light, colour and more, you can potentially ease these symptoms.
Here, we take a look at five affordable DIY projects you can start to beat the winter blues.
Key findings
Revive your rooms with a fresh lick of paint
Colours can change the look and feel of your home. In fact, according to colour theory, specific shades can have a significant impact on your emotional wellbeing. So, repainting the walls in your home could be the perfect winter DIY project to dive into!
Philippa Pawson, Marketing Director at leading painting tools provider Harris Brushes, shares some advice on transforming your indoor space:
"Whether you're planning on tackling the task by yourself or with your loved ones, there are useful guides available on how to paint a wall that will help you get started, but it's important to choose the right colours before grabbing your brush.
"White, for example, is a classic interior colour and is often associated with feelings of relief, although it can also leave your room feeling empty and lifeless if used by itself. We recommend using a combination of carefully chosen colours instead.
"If you're redecorating your living room, you could use a muted green to evoke feelings of contentment, or soft blue for feelings of relaxation alongside a white base. This way, you'll be able to sit back and relax during long, dark winter nights.
"Plus, you're destined to save money by doing this yourself. On average, it costs £400 to hire a professional to paint a single room. Even if you consider the price of paint and tools, your DIY project will cost much less, and you'll be working towards beating the winter blues."
Challenge yourself by building your own wall panelling
Wall panelling is becoming more popular, with Google search interest doubling between December 2022 and January 2023. Interest in the term 'wooden panelling on wall' has similarly increased by 300% in the past year. So, if you're looking for ways to challenge yourself, building your own wall panelling could be the perfect project to try on a rainy day.
There are multiple panelling designs to choose from. Whether you prefer grand period designs, tongue and groove or dado style, you're destined to save a lot of money (and boost your mood!) by doing it yourself rather than paying someone else to take over.
Start by measuring your walls to determine how many panels you'll need to use. Cut the wooden panels with a saw and mire box, smooth the surface with sandpaper and stick them to the wall using strong adhesive. Then you can paint and decorate to your heart's content! 
Install brand new lightbulbs and save money on your electricity
You're more likely to spend your evenings indoors in the winter months. To make your home full of life, you can try installing brand new lightbulbs. Not only will this brighten up the space, but it can actually save you money on your electricity bills. And that's definitely welcome in the current cost-of-living crisis.
Small switches can make a big difference. LED lights, for example, are much more efficient than other bulbs. You can save around £55 per year by switching your incandescent bulbs to LEDs, taking the cost from £10-per-100-watt incandescent bulb to £15-per-100-watt LED bulb.
Upcycle the old furniture collecting dust in your basement
Upcycling has become an increasingly popular DIY activity, with online interest in 'upcycling furniture ideas' shooting up in December 2022. And considering how simple it can be to breathe new life into once-forgotten furniture, it's no wonder people have been giving this a go throughout the UK.
There are countless ways you can upcycle a piece of furniture, including painting an old chest of drawers in your favourite colours. To do this, start by cleaning and prepping the surfaces. Use a combination of white vinegar and water to remove any dirt from the piece. Then you can sand, strip and paint to your heart's content.
This year, design experts are forecasting that preserving natural wooden finishes will take over in 2023. If you're ready to take on this trend, you can wax the surface of your wooden furniture match the interior décor of your home, instead of painting it. It's up to you!
Install floating shelves to help heat up your home
Last and certainly not least, you can install floating shelves – a nice, straightforward DIY job that can offer multiple benefits to your home.
To make the most of your heating, try installing shelves above your radiator. This will direct heat straight into your living area. By doing this, you're saving money on your energy bills while reaping the mental wellbeing benefits of focusing on a DIY project. What more could you want?