Posted on 27th April 2023
Bathroom Blinds: The Do's and Don'ts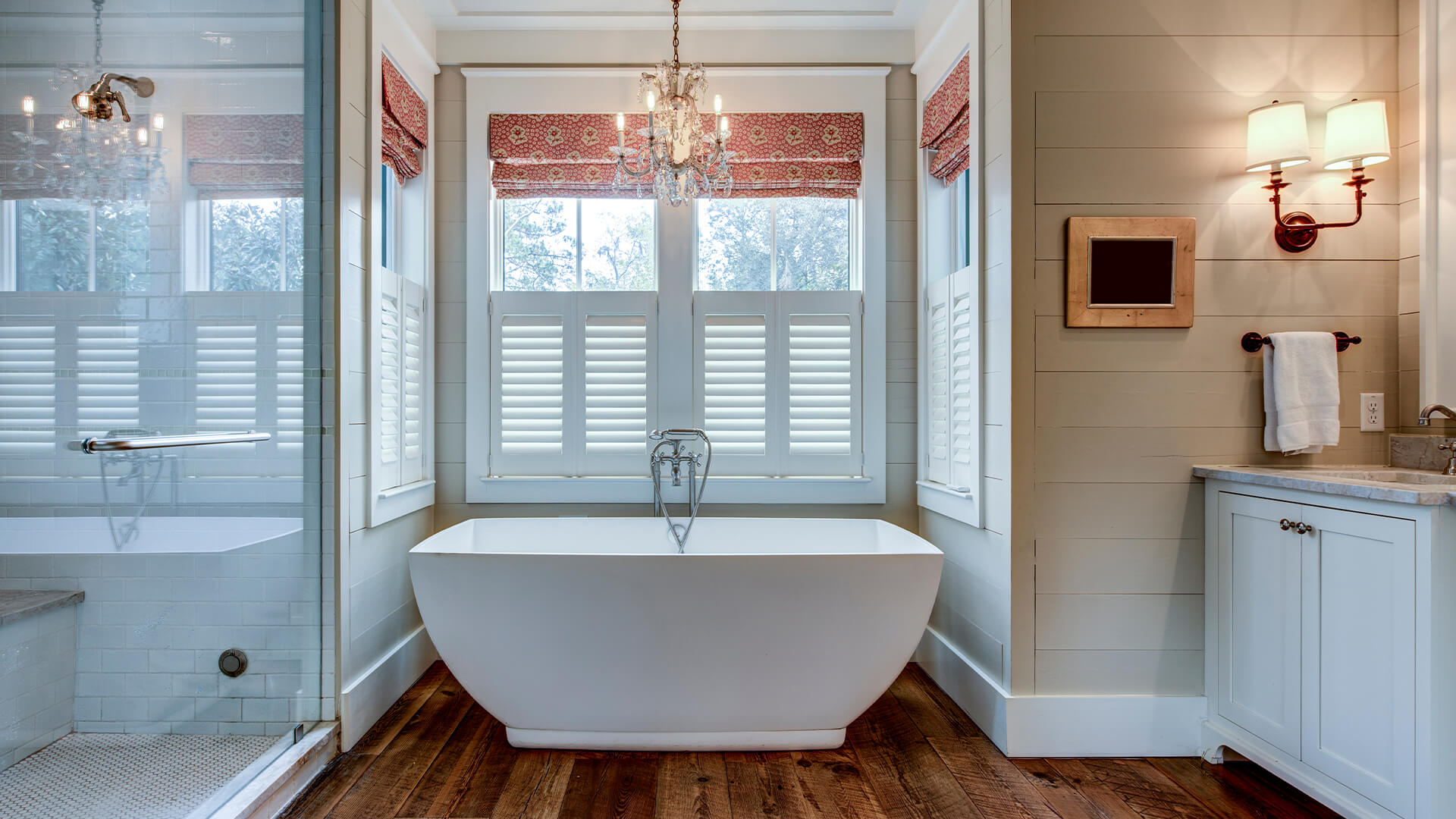 The bathroom is the room in the home that demands the utmost privacy, yet it's surprising how the importance of window dressings is overlooked. 
The beauty of blinds lies in their versatility, allowing you to effortlessly regulate privacy and light while also achieving your desired aesthetic. You can turn your bathroom into a sanctuary with the perfect blend of style and functionality by carefully choosing the right window dressings for your space.
Though the bathroom can be one of the dampest rooms in the house, there are multiple options that are both practical and stylish.
Helen O'Connor, product manager at 247 Blinds explains which blinds are most suited for a bathroom and how to care and maintain them.
What to avoid 
Some styles are simply not designed for the bathroom. An environment which is frequently exposed to moisture poses a risk to natural fabrics and materials.
Helen explains: "Certain fabrics can be susceptible to mould, and it is not always possible to allow for enough airflow.
"PVC blinds or faux wooden blinds are perfect for those that want to include wooden blinds or wooden features in their bathroom. They are water, warp and crack resistant, making these blinds a robust, versatile and stylish option for any home." adds Helen
"In any other room, real wooden blinds contribute to an overall sense of luxury and classic grandeur. Not to mention the added benefit of their strength and durability, however, they are not best suited for a bathroom.
"When exposed to the wet and humid conditions of a bathroom, wooden blinds will quickly become damaged. Wood is a porous material vulnerable to rot, which means over time your blinds could soften and eventually fall apart.
The best bathroom blinds
There are a number of blind styles which lend themselves to practicality, durability and style. Depending on your needs and desired look, consider style and material.
Helen explains: "Roller blinds are an excellent choice for bathrooms due to their many benefits. One of the main advantages is their ability to provide privacy control, this feature is especially important for ground-level or street-facing bathrooms.
"Additionally, roller blinds come in a variety of textures and patterns, allowing homeowners the freedom to implement their preferred interior design choices. With moisture-resistant options available, roller blinds are more than suitable for wet and humid environments. Moisture-resistant coatings ensure that the blinds remain in good condition, and do not hold onto moisture or hold smells.
PVC roller blinds offer style along with a waterproof, flame-retardant coating – making these fantastic for both kitchens and bathrooms. Overall, roller blinds are an excellent choice for bathrooms, providing both functionality and style."
"Vertical blinds also make for a great bathroom blind option as they're available in a range of waterproof, PVC materials and take little effort to maintain. Again, with the ability to control light and privacy, they suit a bathroom space really well."
How to look after your bathroom blinds
Naturally, bathrooms are host to plenty of moisture. Luckily you can take preventative action to ensure your blinds are kept in good condition.
Helen explains: "Make sure to optimise airflow, this can be done by opening windows, to allow the house to circulate the air. This is known as allowing your house to "breathe". 
"Similarly, ensuring you regularly open and/or tilting your blinds reduces dust and dirt build-up, and keeps them in the best possible condition".
"You also can reduce the likelihood of mould growth by regularly wiping your windows down. Try using a rubber window wiper daily to clear the moisture as it builds."