Posted on 1st September 2021
Backyard Office Pods: The Solution to Boosting Productivity for Remote Working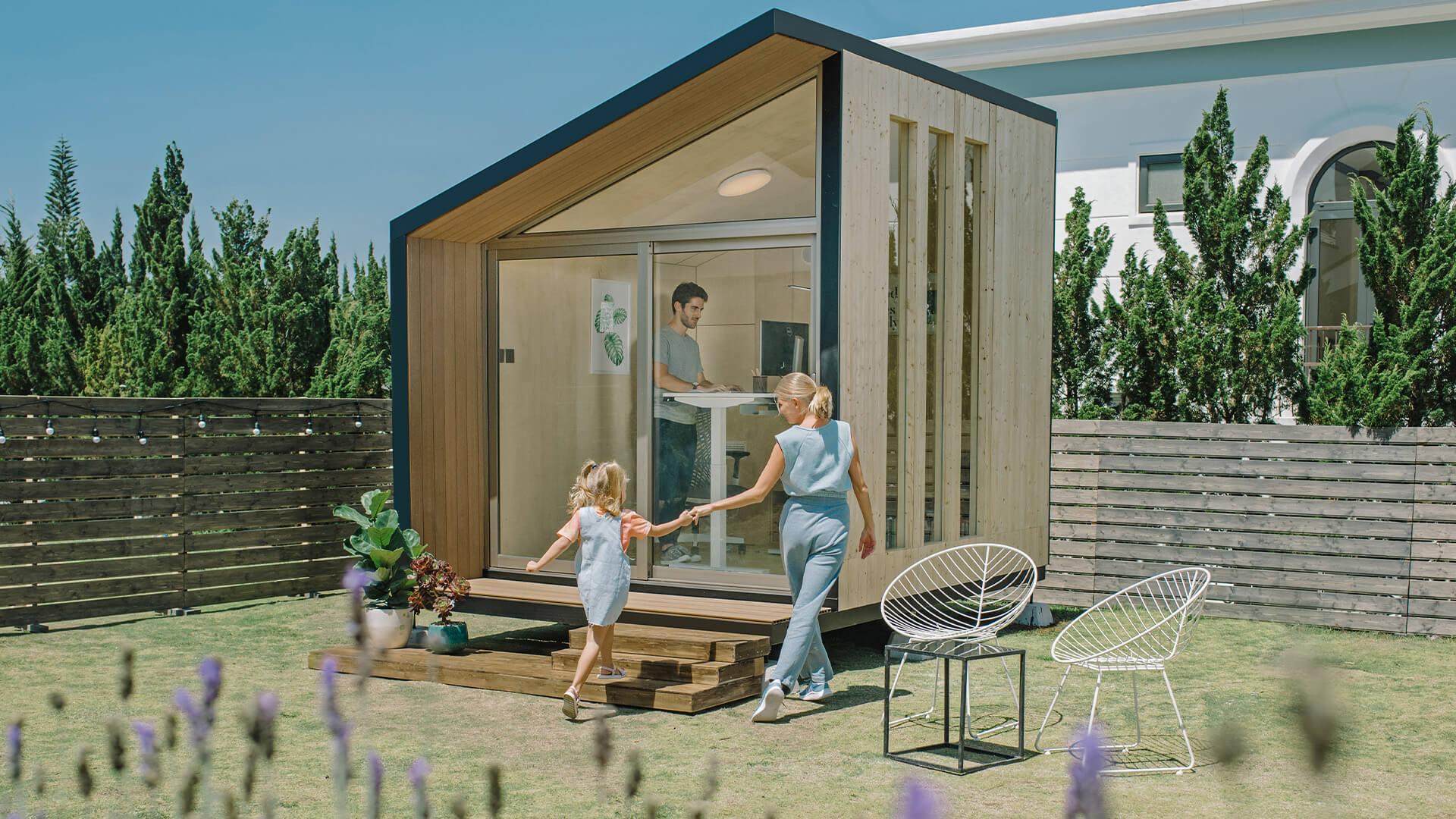 A man is only as good as his tools. If you want to work optimally, then you need to have the right office equipment.
This is now even more important as many companies are shifting to a hybrid work model. The pandemic has forced the workforce to quickly adjust to remote work. Many cities are emerging from various lockdowns and restrictions, but not all employees are keen on leaving their homes.
Though restrictions are easing in many cities, many workers don't look forward to getting back to the office. Some are even willing to take pay cuts so they can keep working from home. Up to 65% of employees would rather take a 5% salary deduction instead of going back to physical office spaces.


A Change in Design
Many companies still value the idea of having employees onsite, however. This is why hybrid work schedules are becoming a popular option. In this model, workers are required to go to the office only a few days a week, while spending the rest of their workweek at home.
This shift isn't just limited to weekly schedules. Hybrid work setups are also changing how office spaces are laid out. Since a big part of the workforce will be working from home on most days, the office will predominantly become a space for meetings, brainstorming, and collaboration.
As a result, the way office spaces are designed is also changing. Cubicles will give way to more open spaces and desk spaces will be turned into meeting rooms.
Hybrid work also has the potential to transform urban spaces. As more people stay home, cities will be less crowded. This can potentially affect transportation, gas prices, retail, and even the prices of real estate in cities.
Alongside the changes happening to public spaces, homes are also changing. As more employees realize that remote work is here to stay, many are also looking for ways to boost productivity at home. Some are replicating their office schedules to maintain a sense of regularity. Others are transforming spare rooms into home offices.
What workers want is to create a distinct space solely for work, so they can still separate work from their home lives. For others, a solution is to have home offices in their backyards. This not only provides them a distraction-free environment but also allows for a mental shift as they walk from their homes to their backyard offices.


The Rise of Fully Equipped Backyard Offices
Remote workers may have already been introduced to the idea of ergonomic chairs and desks to boost their productivity. Today, however, there are now fully equipped workpods that provide the entire in-office experience in one's own backyard.
These workpods best suit those with jobs that require a strong focus. Though some people are able to work in any type of space, others need to completely shut out the external world. Some examples are those working in creative industries. They may need to block out the outside world to focus on what they are creating.
High-performing entrepreneurs may also benefit from backyard workpods. Those leading high-performance teams need to be free from distractions so they can develop and execute their ideas.
Workpods may also benefit those who have families—especially those who have small children. It may be difficult for them to separate work and family responsibilities and need a space intended just for work.
But just any backyard space available isn't enough. What's needed is a fully equipped office, as the right tools can boost productivity. As a construction or even complex assembly can be costly and time-consuming, it's important that backyard office pods are also easy to build.


Redefining Productivity
The solution is to upgrade pre-fabricated homes and equip them with all the office solutions that workers need. This is what Duy Huynh, CEO of Autonomous Inc., discovered while grappling with the challenges of working from home.
Autonomous Inc. has already been offering ergonomic office equipment to the market since 2015. The goal has always been to provide workers the tools they need to unleash their full potential. Today, they take it even a step further. They want to redefine the foundations of a productive workspace.
Looking past just providing ergonomic equipment, the company wanted to look for a way to provide the actual office space. This is why they have now introduced the Autonomous WorkPod, an all-inclusive workspace solution.
The WorkPod is not only equipped with the right tools, but it is also easy to build. As a prefabricated office, the only tools needed for assembly are an electric screwdriver and a ladder. It's like building a life-sized Lego set.
The pod is also sturdy despite being easy to build. This is because a network of solid steel beams and six M300 cement blocks are used to make the base. The foundation can support up to four tons.
The WorkPod is also weather-proof and can withstand wind, rain, snow, and humidity. This is because it's built with prefabricated walls made of six different layers of wood, foam insulation, and bitumen.
It's also completely freestanding. It can be installed in any existing backyard or empty lot, as long as there's enough space with a nearby power source. After the WorkPod has been set up, all it needs is to be plugged in.
At 11.2 feet, the WorkPod can stand clear from trees or other obstructions. It also has an adjustable base, making it stand firm even on uneven ground. This includes most backyard surfaces such as soil, brick, concrete, grass, and even gravel.
Aside from providing office space, the WorkPod also comes with an adjustable SmartDesk Pro and an ErgoChair Pro+.
"We designed WorkPod with the serious worker in mind," says Duy. "The big boss, the crazy talented entrepreneur, any professional who needs a freestanding private space dedicated to planning, building, and managing an empire."
Along with the WorkPod, Autonomous is featuring a hybrid work model for easy adaptations for the new remote work experience.
The New Face of the Home Office Is Here
The pandemic has forever changed how work is done. Today, many have already embraced the idea of working from home. Companies have shifted to hybrid work setups. Office spaces are being redesigned as they may now be reserved for collaboration and brainstorming.
The idea of the home office is also evolving. High-performers and creatives know that just clearing out a space at home isn't enough to boost productivity.
What they need is a fully equipped office in their own backyards. What they need is the ability to shut off the rest of the world so they can focus on developing and executing great ideas.
What they need is a space to get things done—a space where the possibilities become endless.