Posted on 5th September 2022
Accessible Holiday Home Missy's House Opens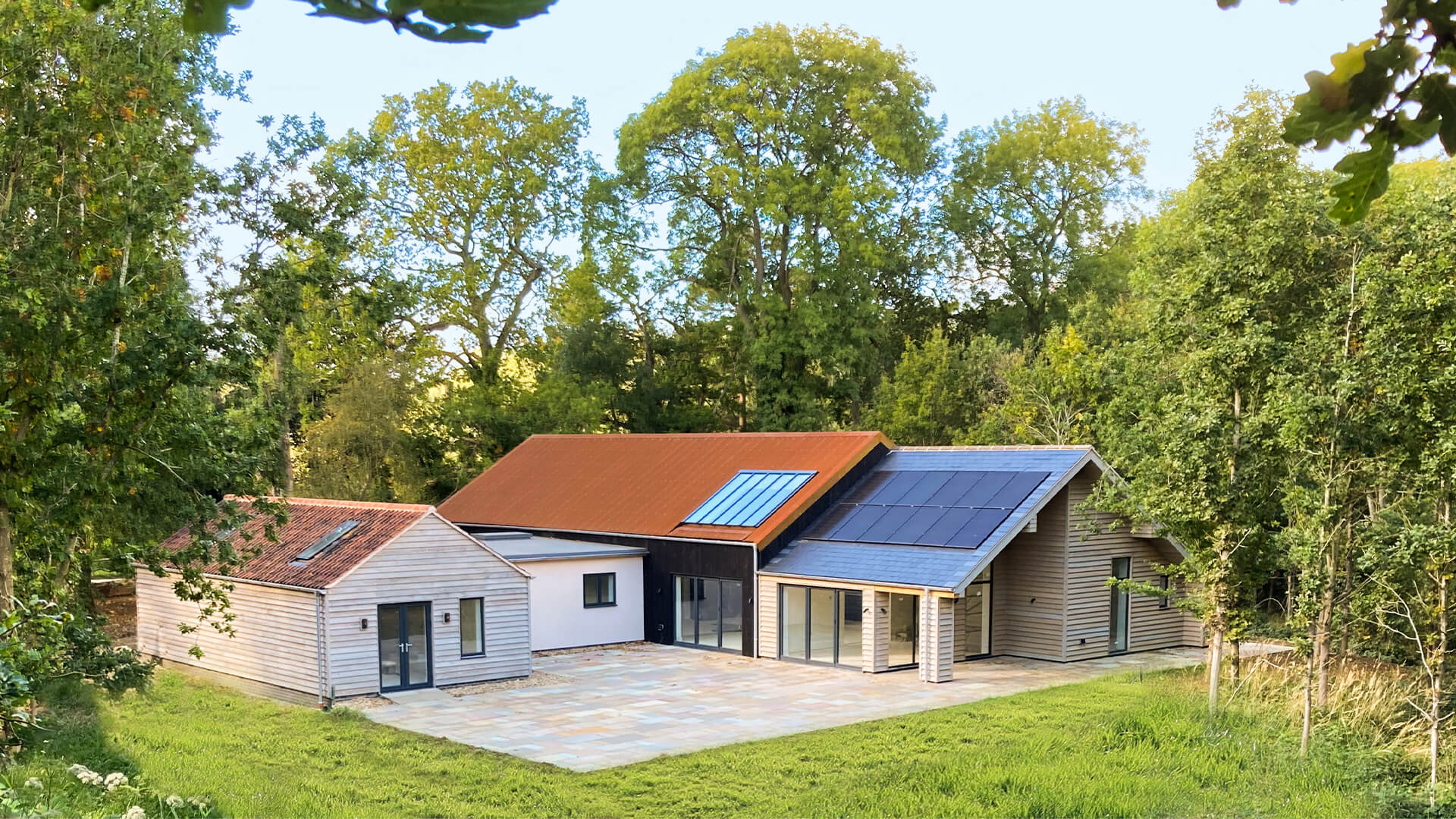 – Featuring three beautifully accessible bathrooms by Motionspot
Missy's House in the Northamptonshire countryside has opened its wide doors to disabled guests as a much-needed addition to the UK's accessible holiday home market. This five-bedroom former wood-mill complete with three beautifully accessible bathrooms designed and supplied by inclusive design specialists Motionspot makes the perfect rural retreat for guests, whatever their access requirements.
The focal point of this expertly restored accessible holiday home is its double-height, open-plan, wheelchair accessible kitchen and sitting room. This leads onto a cosy living room, a separate arts and crafts come playroom, and a patio which looks directly onto the surrounding woodland. A wide main hallway divides the living area from the sleeping and sanitary spaces. In line with their ambition to create an accessible home-from-home for disabled guests and their friends and families, the owners of Missy's House instructed Motionspot to design its three bathrooms and supply design-led accessible products to create practical spaces that are in keeping with the entirety of this distinctive, architect designed building.
Rupert Conant, Owner of Missy's House on the Bulwick Estate said:
"Named after and inspired by my sister, Missy's House has been purpose built for people with disabilities, but it's been done in a subtle, design-led way, so it doesn't look clinical in the slightest. We realised early on that a lot goes into creating accessible bathrooms, especially ones that look great too. So, we enlisted Motionspot's expertise, and Rebecca and her team supported us every step of the way; from the initial floor plans to sorting out the finishing touches. The resulting bathrooms are a vital component in the creation a holiday home that makes the perfect getaway, no matter what your access needs may be."
Of the three bathrooms, two are level-access wet rooms, which are the most accessible bathrooms you can make, while the third has a separate bath and level-access shower to accommodate those who love a soak, as well as young children. All are fitted with white porcelain sanitaryware including basins wall-mounted at the optimum height to accommodate a stool or wheelchair underneath. Their elegant cut-outs offer discreet support while doubling up as a great spot to hang a hand towel, and their wide countertops serve as easy access storage for daily essentials. Every bathroom features a combination of attractive fixed and folding chrome grab rails which complement the bathrooms' other brassware. Strategically positioned where it is most likely to be needed, support includes dual[1]purpose L-shaped shower riser rails which can support 150kg of weight as a grab rail. Other clever product choices include:
Discreet shower seats which neatly fold up against the wall

Comfort lever mixer taps

Illuminated mirrors complete with demister pads

Comfort height toilets with easy-to-operate mechanical flush plates

Low surface temperature electric towel rails

Push-button call alarms which are a more discrete, user-friendly, and hygienic alternative to traditional emergency red pull-cords

Slip resistant porcelain floor tiles
Next to the bath is a tiled shelf which can be transferred onto from a wheelchair to aid getting in and out of the bath. The second bathroom features eye catching storage niches made from complimentary tiles. All three bathrooms are finished with eye-catching Italian tiles; a combination of a blue/green shade reminiscent of the woodland outside, combined with a paler neutral in the two main bathrooms, and a beautifully subtle textured neutral tile throughout the ensuite.
Beyond the bathrooms, the kitchen has also been designed with wheelchair users in mind and includes an accessible sink and cookers and the island features a lower height section of worktop. All the bedrooms can be configured with either two twin beds or one double to meet the needs of any combination of guests.
Rebecca Hillier, Senior Key Account Manager at Motionspot says:
"I've been lucky enough to visit Missy's House already and I was blown away by the quality of the finish and the effort to make it accessible throughout. Motionspot helped with the bathrooms which are a joy to behold because they seamlessly integrate with the whole building which has been created with phenomenal care and attention to detail. The bathrooms are of course also fully compliant and have been designed to be useable by people with a range of access needs. I know that everyone who stays here – disabled or otherwise – will want to return to Missy's House time and time again."
Conant continues:
"We would love to create additional accessible holiday lets on our land in the future, and when we do, we will certainly look to Motionspot again to provide their expert advice and clever accessible products to help us make the bathrooms both practical and aesthetically in keeping with the rest of the building."
Missy's House is now open for bookings via Rural Retreats or direct via https://www.missyshouse.co.uk/ or 01780 450 251, and to speak to one of Motionspot's inclusive design and product specialists about making your business or project beautifully accessible, please email [email protected] or call 020 3735 5139.