Posted on 14th February 2023
6 Expert Decluttering Tips for the Tidiest Home Ever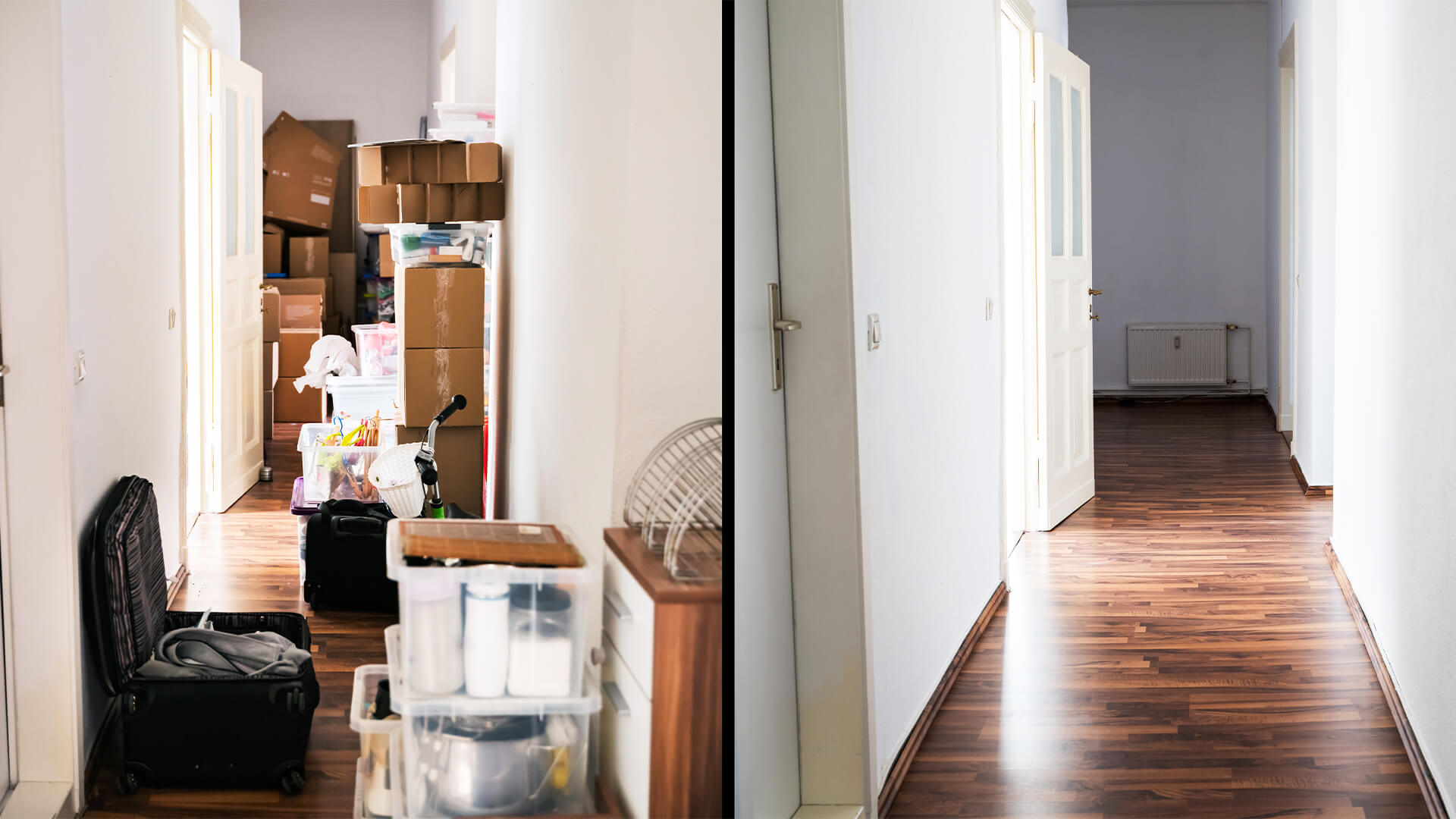 January may have been and gone, but that doesn't mean we can't have a proper clear out of all the unnecessary mess from around the home to put some order to our (pretty chaotic) lives.
Decluttering around the house is a great way to get rid of items that are taking up unnecessary space, and can provide people with a sense of accomplishment, clarity, and control – and keep your home clean and organised! 
Looking to declutter around the home but need some inspo on where to start? Experts at Time4Sleep, Christy, musicMagpie, ICON Printing, Animal Friends and Pavers share their top tips on how to sort out your home, declutter your belongings and clear your mind.
1. Turn your bedroom into a safe haven
Jonathan Warren, director and bed specialist at Time4Sleep talks about the importance of a well-thought-out bedroom and why you might need to rearrange your layout: "It's key that the bedroom aids in creating a sense of relaxation and calm, and a cluttered space is likely to do the exact opposite. 
"Although it may seem like an overwhelming task at times, giving yourself a free slot to declutter your bedroom can help to reduce stress and clear headspace. You're likely to feel more well-rested too as potential distractions will have been eliminated and you can instead focus on winding down for sleep."
2. Empty your drawers and earn some cash
Have you taken a look in your forgotten drawers recently? Research from musicMagpie revealed that the average household in the UK has an estimated £842.12 total worth of unused tech gathering dust at home. 
Jon Miller, Group Chief Commercial Officer at musicMagpie explains why now is the best time to declutter and sell your old phones: "Once a new iPhone model launches, other models will begin to depreciate in value, so holding onto your old phone for too long will impact how much cash you can bank. In our 2021 Annual Depreciation Report, we revealed the value of older iPhone models will drop by around 10% in the first month after the new model is released and by an average of 23% after 3 months."
When it comes to our old phones, musicMagpie also found that each household in the UK has an average of two unused phones lying around which means UK households could be sitting on an average of £448.68 in unused phones alone.
3. Divide and conquer with smart storage
Lucy Ackroyd, Head of Design at Christy adds: "If there are certain items that you really can't part with, make sure you have ample storage space in your home to organise your belongings neatly so you can come back to them when you need them.

"Whether it's adding dividers to your drawers or putting up shelves in your airing cupboard to tidy your spare bed linen and towels, an organised storing system can help you keep on top of your home and make you feel in control.
"Don't be afraid to add labels to things like drawers and containers. Having labels gives you guidance, making you more likely to be strict with yourself to put things in their correct place."
Jonathan comments: "It's important to think about the size of your bed when it comes to decluttering. A kingsize bed may provide you with the extra stretch space you desire while sleeping, but it can be overcrowding your room and limit your storage options. 
"If you want to make the most of your bedspace without sacrificing storage room, an ottoman storage bed is an ideal choice. This type of bed is designed to lift up at the head or foot of the bed, revealing a large space where you can keep extra bedding, clothing, books and other items. It's a great way to maximise your space without compromising on style or comfort."
4. Pet owner? Tame the toy chaos
Keeping a home clutter-free can become a bigger challenge if you're a pet owner, but an easy way to avoid this is simply by not going overboard with toys and sticking to their favourite items.
Catrin George, Animal Wellbeing Specialist at Animal Friends Pet Insurance says:
 "We're a nation of animal lovers who love to spoil our pets with toys. And these toys aren't just for creating play and fun, they also play an incredibly important role for keeping your pet healthy, mentally stimulated and content. All dogs and cats should have access to stimulating toys for their happiness and development, but around 4-5 is a good number. It's very easy to be tempted to buy lots of toys to keep things entertaining but this can quickly result in a lot of extra clutter around the house and, if all are left out at once, it can lead to your pet losing interest in them altogether."
To help keep your home neat and tidy and your cat or dog happy, I'd recommend having a basket of toys tucked away in a pet-dedicated cupboard and rotating which ones they can play with each day or every few hours."
5. Tidy shoes, tidy mind- keep your shoe collection organised
New research from wide fit shoe specialists Pavers has revealed that your slippers are dirtier than a toilet seat and with ¼ Brits surveyed revealing that they wear shoes at home but are unaware as to how dirty they are, it's time to leave them at the front door and tidy them away…
Vittoria Wellen‑Bombelli, Buying Assistant at wide fit shoe specialists, Pavers comments: "With our research revealing shocking findings into just how dirty our shoes are, it's important to consider taking your shoes off at the front door and then switching to a pair that are worn inside-only and prioritise foot health and comfort. 
"We should also be washing our shoes at least once a  month to reduce the bacteria and dirt we're bringing in. Most shoe soles can be rinsed and washed with water and a damp cloth which should keep them looking clean, as well as reduce the grime that's transferred around our homes."
6. Give your unwanted clothes a second chance – and earn some extra cash
Just because you're finished with your clothes doesn't mean you can't make a little extra money- whilst being kind to the environment.
Alex Econs, founder and CEO of clothing printing company ICON Printing says: "Each year, an estimated £140 million worth of used clothing goes to waste – that's around 350,000 tonnes! If you want to change up your wardrobe but don't want to dump your fashion, sell, rent or even donate your clothes to give them a second life.
"Depop and Vinted have exploded in popularity in recent years, as they're an easy and reliable way to sell your unwanted clothing. Renting your clothes on ByRotation or Hurr is also a great option for high-quality or designer clothing items. Not only does this support circular fashion but it will allow you to make some money too."
"If you don't think reselling is an option, be mindful of how you dispose of the garment. The Salvation Army is a great option if you want to donate your clothing, and if you live in London, Traid will even pick up your clothes from your home." 
Be ruthless with your decluttering approach
Struggling with deciding what to get rid of? Lucy explains her process of deciding what is worth keeping and how to organise what's left: "When it comes to decluttering the home, it's best to tackle one room at a time to not get overwhelmed. Choose a day when you have no plans or commitments, and start the process of assessing what stays and what you need to finally let go of. 
"Empty everything out and be ruthless. Weigh in on each item and ask yourself,  why are you holding on to these things, and try to understand your answer. It can be hard to let things go but it is crucial to creating a clutter-free environment."