Posted on 27th February 2023
6 Creative Ways to Add Warmth and Character to a Grey Home, According to an Interior Designer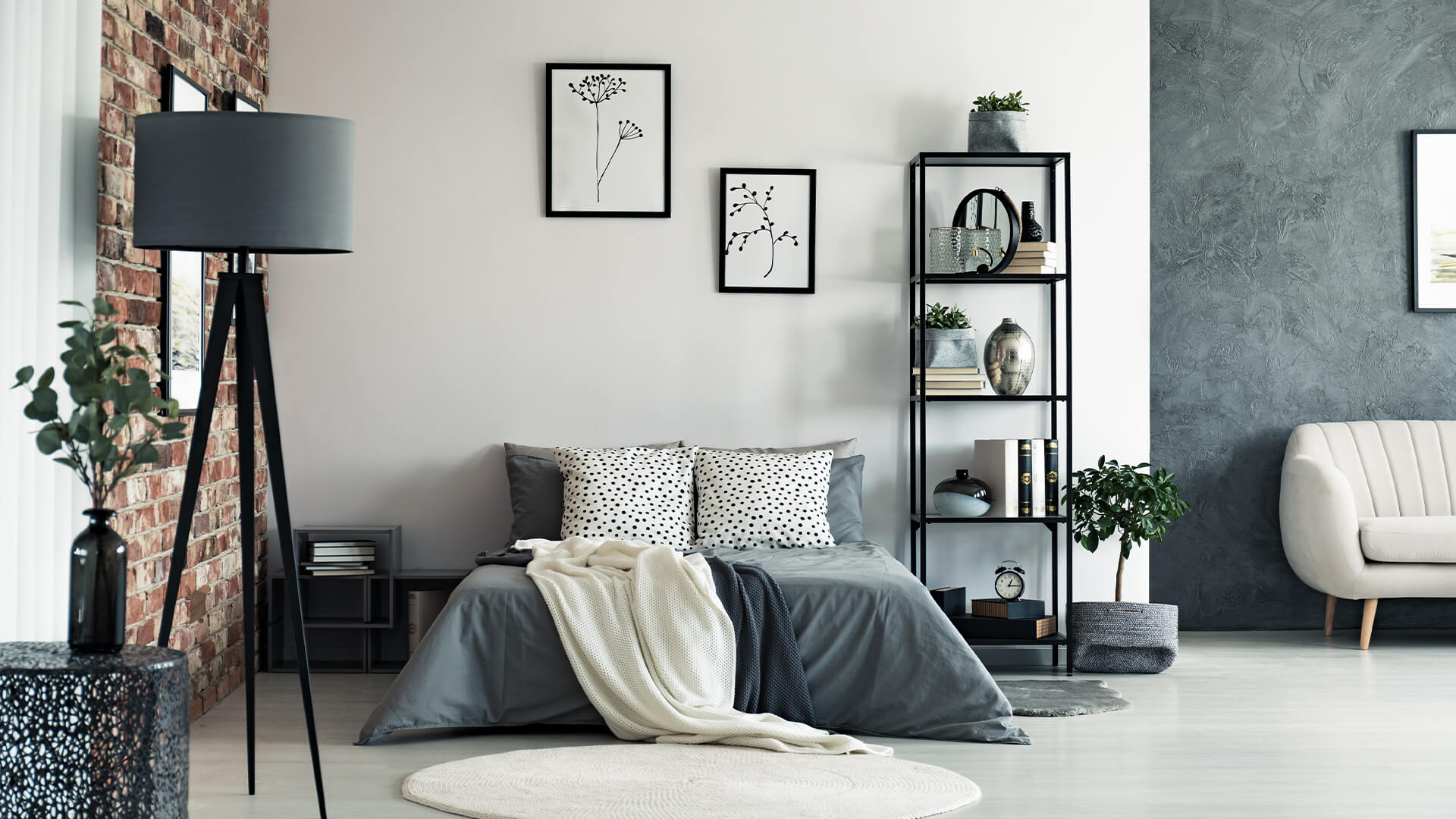 If you have a home decorated head to toe in grey and want to slowly introduce more colour and personality to your space, Amy Wilson, Interior Designer at 247 Curtains has provided her top tips on how to do this successfully.
Commenting on the trend, Amy says: "It seems that slowly people are moving away from grey or at least they are starting to embrace more colour and find ways to add some pops to their existing schemes. "
"Traditional fans of grey tones who once layered shades of grey from walls to floors and everything in between, are now adding in some contrasting colours and accents with homes all over the land and getting a new lease of life."
She stresses: "Despite what you may expect not all colours go with grey and depending on the result you are aiming for there are several different options."
Enrich the room with deep greens and blues
Grey rooms can feel quite flat at times, but choosing rich colours and adding greenery to your decor can help to create dimension and depth. 
Amy says: "If you have soft pale grey walls and carpet, try introducing some darker shades of blue or green in your accessories. A set of floor-length curtains in contrasting deep green velvet would add real drama to your room."
She adds: "Taking inspiration from nature can really help to liven your space. Adding a plant shelf with trailing greens along with some cushions with a botanical or jungle print will leave your room feeling completely transformed."
Warm dark rooms with accent colours
If you've gone for moody grey tones in your home, you can invigorate the space through your choice of accent colours – these small additions can change how a room looks. 
Amy explains: "Darker shades of grey look fab with muted sludgy pale accents – a pink that has brown base notes will really warm up a dark grey room. Consider painting a contrasting ceiling for a quick and easy way to add impact, or adding soft furnishings such as cushions or throws in your chosen colour."
Treat a grey room as a blank canvas
If you've wanted to play around with colour palettes and thought about introducing more personality into your home, then starting with a grey room may actually work in your favour. 
Amy comments: "Grey is a great option if you have lots of colourful accessories or patterns as it will disappear much like a neutral. In fact, treat a grey room as a blank art canvas – adding bright colours will really pop and stand out against their background."
"Don't be afraid to go bold with your palette, mixing blues, pinks and yellows is not something to shy away from! If you're a fan of the dopamine decor trend, then this is a great chance to slowly start the journey of achieving this larger-than-life aesthetic"
Inject happiness by pairing with mood-boosting yellows
Yellow and grey make a really happy and joyful pairing and this colour scheme works particularly well in children's bedrooms or kitchens for a more contemporary update. 
Amys says: "In rooms that struggle with lack of daylight especially, adding a sunshine shade is a great way to add brightness to boost your mood."
"Be bold with your yellow accents- there is no room for primrose or soft yellows in a grey scheme. This will ensure there's enough contrast to make the colour pop!"
Build on existing grey decor with layering and statement pieces
If you have big pieces of existing furniture or decor, such as carpets or sofas, that you don't have scope to completely replace then think about how you can work with and enhance what you already have.
Amy suggests: "If, like so many households, you already have a grey roller blind, you can update it with the introduction of some dress curtains to hang in front. This is the time to introduce some pattern looks for a nice contrasting bold design that will draw your eyes away from the grey." 
Embrace the dark side
If you are still drawn towards grey for decor then be encouraged to look at the darker end of the spectrum. 
"Steel, slate, and charcoal are all good shades for a more contemporary take on grey and combining the lot aids in creating a more mature and masculine look. Textured slate grey curtains or black curtains paired with warm-toned lighting is really effective in a room like this to create atmosphere and ambience" Amy explains.
"On the other hand, these darker colours can also act as a great base for any colour preference from neon pink through to a fresh bright white."