Posted on 6th September 2023
5 Autumn Garden Ideas to Bring the Inside Out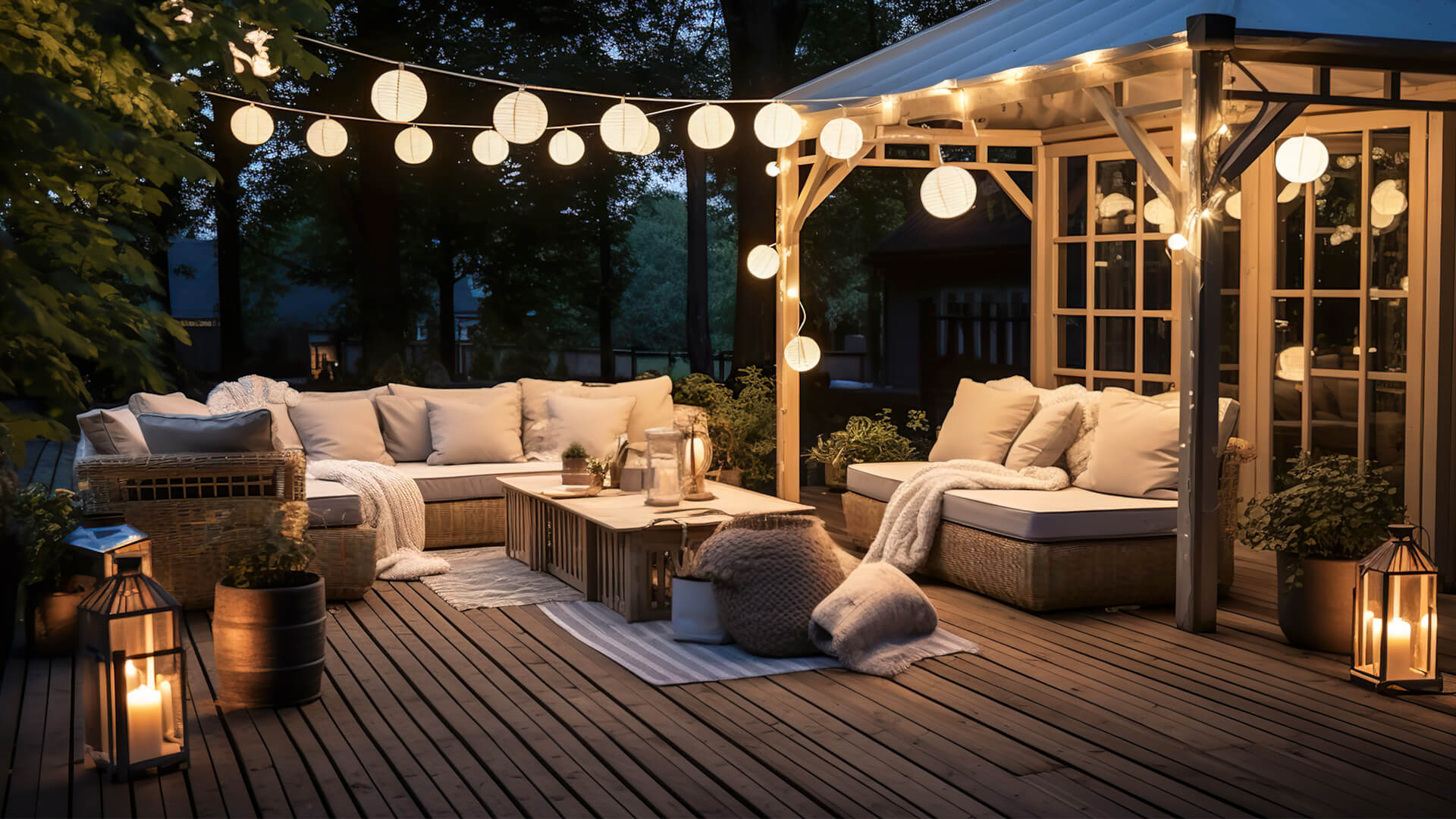 There's nothing better than summer nights beneath the festoon lights, surrounded by your favourite people, but as we near the end of the warmer months, how can we transform our outdoor spaces to take us through to autumn and beyond?
Interiors expert and head of buying at ValueLights, Julia Barnes, has shared some top tips on getting the most out of your garden during these last few weeks of summer:
1. Light it up
Julia says: "If you're entertaining on those warm evenings, you don't want the party to be cut short when it gets dark, so it's really important to have adequate lighting solutions in place. Investing in solar lighting is a low-effort, high-reward choice for garden spaces which receive a lot of daylight, allowing for a seamless transition come nightfall. 
"If you have a north-face garden, portable lighting is your best friend for late summer socialising, allowing you to bring light to areas of your garden out of reach of power sockets. Layering small jars and lanterns throughout your outdoor space will provide a soft glow of illumination come the evening, transforming your garden into a hub for socialisation that can be enjoyed long after the sun goes down."
"Festoon lights will also light up the space without being overpowering, creating the perfect setting for a cosy evening with friends."
2. Bring the inside out
Julia comments: "Comfort is key for any outdoor space, especially when entertaining guests. If your outdoor furniture isn't the comfiest, invest in some cushions and blankets to pass around – extending the cosiness of your home's soft furnishings into your garden. Some stores sell outdoor-specific cushions, or if you're happy to move things around, you can just bring your indoor ones out – just remember to bring them back inside at the end of the night to avoid any damage."
3. Fire away
Julia says: "Fire pits are not just for Love Island! Especially on cooler evenings, adding a fire pit to the mix will not only provide a centre point for your gathering, it will also bring some much-needed warmth and extra light to keep your event going through the night." 
4. Host an outdoor movie night
Julia adds: "Everyone loves a movie night, and what better way to make the most of the late summer evenings than by cosying up with your favourite people (and snacks) and sticking on your favourite movie. You can now buy projectors that connect to your phone, so all you need to do is hang up a white bed sheet as the backdrop and set up your cosy seating area and you're good to go!"
5. Be prepared for rain or shine
Julia advises: "Even with all the best preparation in the world, one thing you can never control is the weather forecast. To avoid the scorching heat or unpredictable downpours inconveniencing your plans, it's always a good idea to be prepared for both eventualities."
"If you're hosting large numbers, gazebos are a great choice which will bring peace of mind to your autumnal garden affairs, while a shade sail is a trendy alternative which will do the trick for smaller groups and everyday use."