Posted on 16th December 2021
4 Quick Home Renovations to Get You Ready For Christmas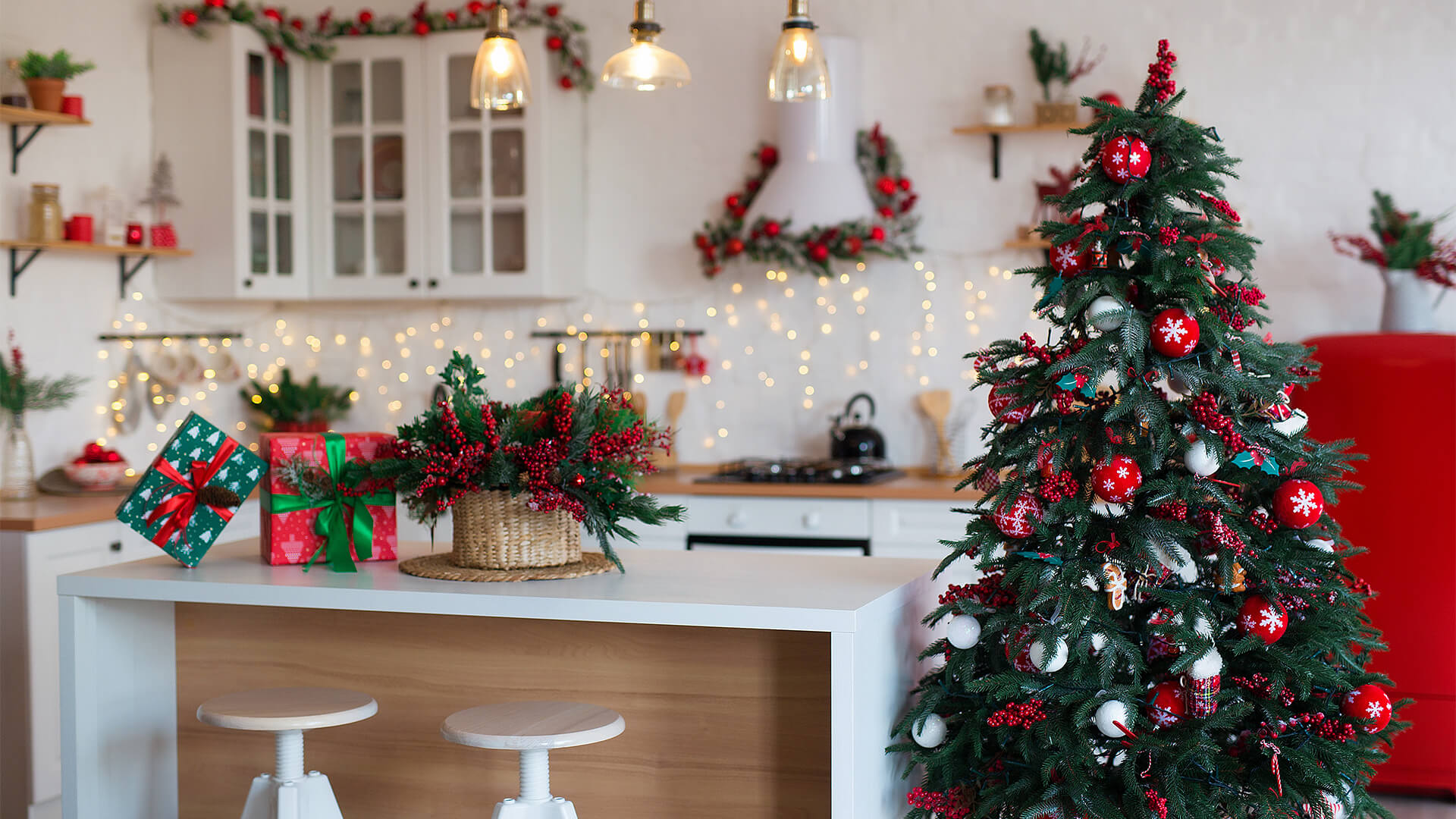 It's official: Christmas is just around the corner! This may cause a sense of panic or excitement, depending on how organised you are. During this time, present buying is at the top of everyone's list, however, you may also want to focus on your home's aesthetic and whether any updates are needed for the big day.
With only a few weeks to go, you should avoid taking on any big home improvement projects. Instead, you should focus on quick but effective renovations which are bound to impress.
To help you get your home ready in time for Christmas, Kane Hughes, interior design expert at MyJobQuote offers his helpful tips.
1. Spruce up Your Guest Bedroom
If you are hosting guests during the Christmas period, you may want to update the decor in your spare room to ensure your guests feel comfortable during their stay.
When updating a guest bedroom, you should try to keep tones neutral, so you may want to paint the walls beige or cream, and for some extra decoration, you could create a stunning feature wall by hanging wallpaper with a muted pattern. You can also inject some colour by adding scatter cushions in winter colours such as navy or emerald green.
When updating the guest room for Christmas, it is important that you add small festive elements. Try to choose subtle Christmas decorations such as Christmas-themed pictures that can hang on the wall or a tiny Christmas tree that can be placed on the windowsill.
You should also add some thoughtful extra to make your guests feel homely. Adding small, luxury items such as Christmas-scented candles or a warm velvet throw can really enhance the feel of the room, creating a sense of relaxation and warmth
2. Upgrade your Kitchen/Diner Lighting
During Christmas, most households tend to flock to the kitchen or dining area where they eat and drink plenty, while catching up with their loved ones. Therefore, it is important that the kitchen/diner area is ready for guests and is also well-lit.
One of the best ways to enhance the look of your kitchen or dining area is to upgrade the lighting. You can start by installing task lighting in the kitchen, as this will make Christmas cooking much easier.
For decorative purposes, you may want to invest in pendant lighting or a chandelier which will act as a focal point above a dining table.
If installing new light fixtures, you need to make sure they are installed correctly. Hiring a professional to install your light fittings will ensure that they are safe and long-lasting. This is a quick and easy job for a professional, as it will only take around an hour to complete.
3. Change Your Window Decor
If you want to enhance the appearance of both the interior and exterior of your home, why not update your window dressings? For example, updating your curtains will instantly make your home appear more appealing and inviting.
When choosing between curtains or blinds, you need to consider the type of windows you have. For example, a bay window is better suited to a minimal look, so blinds will suffice. However, if you want to warm up your home, you should consider investing in thicker curtains for any sash windows in the living room or bedroom to keep the cold out.
If you want to stay ahead of the curve when decorating your curtains, you may want to embrace the Scandinavian decor trend. For a Scandi-inspired aesthetic, you should keep your window decor minimal. In true Scandinavian style, you could opt for lightweight, neutral coloured curtains which will flood your home with natural light during the winter.
Hanging blinds or curtains is a fairly easy job to do, however, you can always call in a curtain or blind fitter if you are unsure how to put up a roller blind or hang your new Scandi-style curtains.
4. Touch Up Any Paintwork
To ensure your home looks perfect in time for Christmas, you should touch up the paintwork on areas of your home which have started looking worse for wear. Painting any exterior doors is a good starting point when touching up paintwork, especially your front door as this is usually the first thing visitors see.
If you are just re-applying paint, make sure you use the exact same colour and apply it to the entire door, as the old paint will not match the new layers. However, I would suggest trying something completely different, such as bold red or even green to reflect the Christmas holiday.
The paintwork inside is just as important as your exterior, especially in areas such as the kitchen or bedroom, as these are the spaces that your guests will spend most of their time.
If you have a limited amount of paint, you should try to pick out which areas are more important. For instance, you may want to touch up your guest bedroom walls or paint your kitchen cupboards.
MyJobQuote is a trades matching site that helps individuals find a reputable tradesperson in their local area.
MyJobQuote have a wide range of experts with extensive knowledge in interior design, cleaning, gardening, property and construction. MyJobQuote's experts have featured in over 700 publications including Woman and Home, The Times, House Beautiful, BBC News and more.
For more information, please email the PR team at [email protected].