Posted on 16th March 2018
Top Mechanical & Electrical Engineering Consultancy Accredited For Cyber Security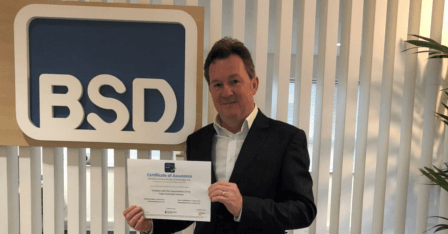 TOP MECHANICAL & ELECTRICAL ENGINEERING CONSULTANCY ACCREDITED FOR CYBER SECURITY
BUILDING Services Design (BSD) has been recognised by a government and industry-backed scheme for its commitment to preventing cyber attacks.
The national firm – which has offices across the UK, from Manchester to London – has achieved national Cyber Essentials Plus accreditation, preparing the firm for new data regulations coming into place on 25 May.
As an industry and government certified scheme, it recognises that BSD has all of the appropriate measures in place to minimise the risk of cyber attacks and has demonstrated that it is taking necessary measures to protect its own – and its clients – data.
'This is another accreditation to our excellent security and we're delighted to have been recognised for our continued efforts in safeguarding information and protecting our customers' confidentiality,' said David Featherstone, director at BSD.
'With new GDPR (General Data Protection Regulation) coming into place in May we're taking all the necessary steps to make sure we're prepared, working towards having all of the appropriate processes in place.
'Customer details are a valuable asset to cyber criminals and we've seen large organisations experience serious issues recently with regards to personal information getting into the wrong hands – showing how important it is to maintain high levels of cyber security. We're committed to maintaining safe systems whereby these details are adequately protected.'
There are five technical controls required to come under the Cyber Essentials scheme: firewalls; secure configuration; user access control; malware protection and patch management.
'Public sector frameworks place great importance on this high level of cyber security – having been operating as part of Scape, LGSS as well as acting as part of council and education frameworks for a number of years so we fully understand and appreciate its importance when it comes to working for public sector clients.
'As a company, we have been operating across the country for more than 25 years, ensuring we adapt and maintain up-to-date systems, processes and ways of working.
'I'd also like to thank New Vision Computing (NVC) for all of its support in achieving this accreditation – the team have done a fantastic job and we couldn't have done it without them,' continued David.