Posted on 29th November 2018
The best home security tips that can also add value to your home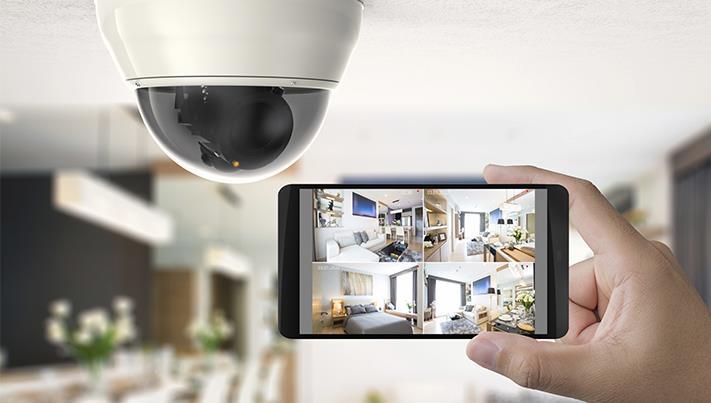 Cases of burglary continue to rise in 2018 in England and Wales? and also remain a problem across the rest of the world. Burglary is a hot topic during political debates with people pointing the finger of blame towards cuts in police funding or the ways in which crime is reported or dealt with from country to country.
While the politicians try to understand the root of the problem, the best thing that homeowners can do is make sure that their home is as secure as possible to prevent a burglary from happening in the first place.
Not only this, but in making your home more secure, you can also add value to your home. A secure home is more sellable which therefore increases the financial value of the property. The quicker you sell your home, the more likely you are to get the asking price for it without having to reduce the price if it is on the market for a long time. You also can't put a price on the safety of the occupants in the property – or your own peace of mind.
The property market is currently seeing sluggish sales due to would-be buyers not wanting to make costly decisions in uncertain economic times. Sellers are currently having to look at different ways to promote their home to attract and reassure buyers to get that much needed sale for the asking price.
Here are some security tips to instantly add value to your home:
Garage door security
Garage doors are a common weak point in your home and are often an easy target for criminals. If your garage is attached to your home and has an internal door, it can provide a criminal an entry point into your home which is hidden from passersby.
There are certain security features which prospective buyers and property agents will be looking at when they walk around your property and secure garage doors are one of them.
Make sure that your garage doors meet the requirements:
• An anti-snap, anti-drill Euro-cylinder lock

• Two locks

• The capacity to fit more locks

• Strong bars on the inside which stop the locks from being forced open

Motion detector lighting

Having lights outside your property that are triggered by motion when it gets dark, are not only an added security, making it hard for intruders to hide – but they are also convenient for the homeowner.
It can be annoying to try to find your front door key in the dark and dangerous if there are steps and potential hazards you could trip over in the dark.
By installing motion detector lighting you are telling prospective buyers that this property is worth protecting and that the property is well cared for. If the property viewing is on a dark winter's day or evening, the motion detector lights will welcome the viewers and put the property in the best light.
Hardwired burglar alarms

A home should be a refuge and sanctuary. Viewers to your property will know that the property is less likely to become a victim of burglary if there is a well-fitted burglar alarm system. It will give them a feeling of confidence as they are walking around the property.
Ideally get your fully wired security system installed by a contractor who can assess the overall security of your property with expertise and experience. This security system is attractive for buyers because once it is installed it is there for their use when they move in. For would be buyers this offers a hassle free option which is an attractive draw.
Make sure that you tell the estate agents about this security system so that they know to show it off to viewers when they are taking a tour around the property.
Wireless burglar alarms security

Alternatively, you can install an attractive wireless system which uses sensors throughout your home and these connect wirelessly to a central control. The wireless option means that you will have less disruption to the property in terms of not needing any drill holes, which can be particularly beneficial in period properties with thick stone walls and period features.
However, this potentially will add less value to your home as the viewers will know that they will have to buy their own system when they move in. Wireless systems will potentially be less reliable as they rely on a good connection.
A combination security system
If you are counting the pennies before moving house, you might want to simply install a hardwired security system to the most important areas of the house and then a wireless system for other areas.
CCTV
CCTV cameras deter crime, provide concrete evidence to police and many link to your mobile phone so you can take action immediately. Some cameras will let you watch live footage wherever you are in the world and can even project your voice into your home to stop intruders in their tracks. There are so many advancements in CCTV home security systems now that you can tailor the system to your needs.
However, CCTV security systems can range enormously in price. Generally speaking, the more you pay, the better the system. A basic system will cost you several hundreds pounds and then further hundreds for installation fees. A wireless system will cost you more. The new Google CCTV-based system will cost you monthly payments and a hefty annual bill.
So when purchasing CCTV to add value to your home, you will have to balance the costs against what adds value to gain a sale for the asking price.
There is no doubt that CCTV impresses viewers to the property and makes a visual statement to potential buyers that this home is prized.
The most cost-effective approach would be to install a CCTV system yourself, but you would need to be confident in your DIY skills.
Bringing down the cost of home insurance

Home security systems also bring down the cost of home insurance – for both you and prospective buyers – and this in itself adds value. Make sure that you call your insurance company to discuss what security measures could bring down your premiums.