Posted on 16th January 2018
Surface Repair – How The Construction Industry Can Benefit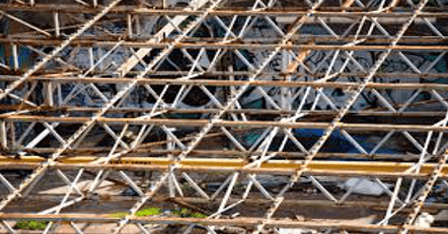 Surface repair is intrinsically linked with the construction industry and offers many benefits to firms working within the sector.
Given the busy nature of a construction site and the often prolonged length of time large projects take to complete, it's inevitable that there are mishaps – be that damaged doors or doorframes, chipped bathroom units, scratched sideboards – whatever it happens to be. With workers constantly moving around site, often carrying heavy equipment and materials, cosmetic surface damage is a practically unavoidable consequence in an active working area.
As repair specialists, we encounter an extraordinarily broad range of surfaces and surface types. I often get asked what cosmetic elements on a construction site can and can't be repaired. In answer to this, I'd go so far as saying that virtually any interior or exterior surface can be repaired, be it plastic, metal, ceramic or enamel, stone, brick, marble, glass or wood. Given the broad range of construction materials involved on sites, it's fair to say that the opportunities for repair are vast.
The jobs where we examine a damaged surface and think 'that can't be repaired' are extremely rare. The simple truth is that the overwhelming majority can be fixed, potentially saving thousands of pounds in the process.
The cost savings of repair is a major benefit to consider. Replacing an object is almost always more expensive than repairing it. Statistics from Plastic Surgeon suggest every £1 spent on repair tends to save £3 in replacement.
On the face of it, when you consider labour costs, repair might look like a costly business even with those savings. But it doesn't have to be.
All repair technicians are highly trained and able to repair a diverse range of surfaces, which negates the need to bring in other workers such as tilers, plasterers, plumbers and electricians. Repairing damaged items such as sinks, windows, work-surfaces, fitted furniture or sanitary-ware, removes the need to make good or replace surrounding plasterwork, tiles or other substrates.
While construction sites have many of those trades to hand, using them for repair diverts much needed resource away from their primary task – that of actual construction.
Recalling plasterers and plumbers to jobs following accidental damage can be regarded as a misuse of their time, taking them away from their chief role where their abilities are needed most. The majority of repairs take around two hours to complete and the most cost-effective way to utilise repair services is to get multiple repairs done at a time. Using specialist surface repair means multiple repairs can be done without the need for multiple trades, thus saving time and freeing up resource.
It's not just cost savings to consider; environmental savings also play a large part. Repairing something saves on landfill – an increasingly important factor as businesses strive to meet sustainability targets and promote environmentally friendly policies. As a company we saved 3,474 tonnes of waste from landfill in 2017, which is up by 17% from 2016.
Never assume that something can't be repaired. Unless it's structurally damaged, shattered beyond recognition or ground into dust, the opportunity for repair is there. The job at hand might seemingly be a large one, but even then it's usually a much cheaper and environmentally friendlier alternative to a complete replacement.
Repair technicians are also very adept at working in-situ, meaning disruption is minimal as they adapt to operating around busy construction sites without hindering other workers. With CSCS cards becoming increasingly important on sites, particularly those operated by the major contractors, most repair technicians will need to show one to demonstrate their proficiency. At Plastic Surgeon, we've recently launched an NVQ in surface repair – an industry first – which allows our finishers to apply for a CSCS Skilled Worker card and one specific to our trade.
Cosmetic repair uses fine finishing techniques which often originated in the automotive trade, but can also be found in French polishing. Finishers use an enormous array of proprietary fillers, hardeners, polishes and colours to mend surfaces that have suffered damage such as scratches, chips, holes, gouges, splits, cracks, discolouration or graffiti damage. It involves real craftsmanship to repair damage to a high standard, but, with these skills mastered it means that, essentially, practically any kind of damage can be mended.
If construction managers aren't currently utilising surface repair then they really should be.