Posted on 20th September 2018
Student Accommodation in London: Halls or Flat Shares?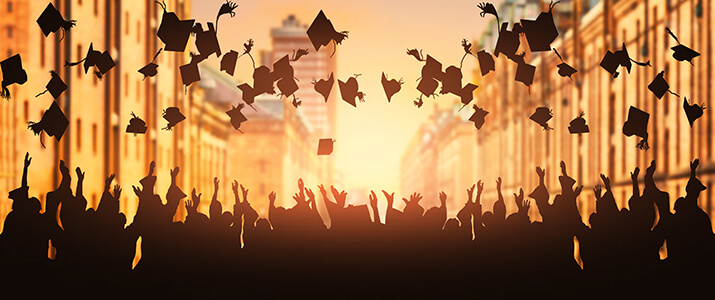 You're currently preparing to make the move to London with your university offer at hand. Whether you're planning to study a subject allied to medicine, which was most popular amongst women with 226,420 applicants, or looking for a business and administration degree which most men were drawn to, totalling 154,720 submissions – there's a lot you must consider when making the move.
Staying in halls

If this is your first year at university, the only option you will consider for accommodation is halls. Moving into student accommodation is all part of the student lifestyle and there are many benefits of this, including the ease of making friends within the university and that many halls are on campus or close by.
Were students happy with their living spaces? The survey suggests that 55% of undergraduates and 61% of postgraduates were. However, a sharp increase in dissatisfaction showed that 19% of undergraduates were dissatisfied with their accommodation which was 7% increase on results from 2012.
According to the same survey, 15% of post-grads were disappointed with their halls.
27% of students mostly complained about the expense of living in London halls. Common complaints surrounding university halls were related to plumbing, water and heating problems at 25% but it must be made clear that these problems should be fixed by the accommodation itself.
Price can vary whether students opt for self-catered or catered accommodation. Using University College London (UCL) 2018/19 accommodation fees as a guideline, a singled catered room would range from £173.88-£180.67 per week. If you wanted to go self-catered, this would be priced around £165.69-£242.62 depending which of course is dependent on building type and location.
Staying in a flat share

Have you thought about going straight into a flat share for your first year? However, with the finer financial details coming into play – saving as many pennies as you can has become vital for prospective students.
Were students happy with their houses? The survey suggests that 55% of undergraduates and 60% of postgraduates were. But were the expectations for students upheld when they moved into their flat? Well, looking at results from 2012-2014, dissatisfaction increased by 4% for undergraduates and 5% for postgraduates.
The biggest problem found by students was the landlord of the property; along with the state of the home. London's landlords are notorious for charging extortionate rates for small living spaces, which is probably why 'people' came up as a common student complaint, small spaces mean that you might be too close to comfort with people – all of the time.
Research has suggested that four in ten people pay less than £125 a week which doesn't include bills. The majority of students from this survey, accounting for 31% said that they paid £126-£150 each week. This was soon followed by 26% that said that they paid £100-£125 each week.
Students that were born in the UK tended to pay less than students from around the world; with an average rate of £134.08. Students from the European Union found themselves paying £140.43 and non-EU students were paying £150.35.
Your outcome
There is a lot to consider when it comes to making the move; you must be looking at your financial situation. You also need to consider how you're going to afford everything – if you're getting out a student loan, will this cover it?
Take time to think about it, discuss the situation with your parents or guardians. You don't want to miss out any important necessities – work with the mindset of what your financial situation will be.
On top of this, what accommodation type will you be going for? Alternatively, if you go for a flat share – are you prepared to pay for bills that may not be included in your weekly rent, and put up with the landlords?
You also must look at how you will be getting to campus from your accommodation. University campuses are usually close to the university accommodation – so make sure if you do go for a flat share, you're close by. Of course, all of this does come down to personal preference but making sure that you're happy with what you have is vital.
This article was provided by the Oxford Tube – check out their London bus times today.
https://www.ucas.com/file/147881/download?token=EDbV_k7w
https://en.wikipedia.org/wiki/List_of_universities_and_higher_education_colleges_in_London
https://www.ucas.com/corporate/data-and-analysis/ucas-undergraduate-releases/2018-cycle-applicant-figures-january-deadline
https://www.spareroom.co.uk/flatshare/flatshare_detail.pl?flatshare_id=9735022&search_id=622712044&city_id=&flatshare_type=offered&search_results=%2Fflatshare%2F%3Fsearch_id%3D622712044%26&
https://www.london.gov.uk/sites/default/files/studentaccommodationsurvey15.pdf
https://www.mystudenthalls.com/?s=London
https://www.savethestudent.org/accommodation/national-student-accommodation-survey-2017.html#about