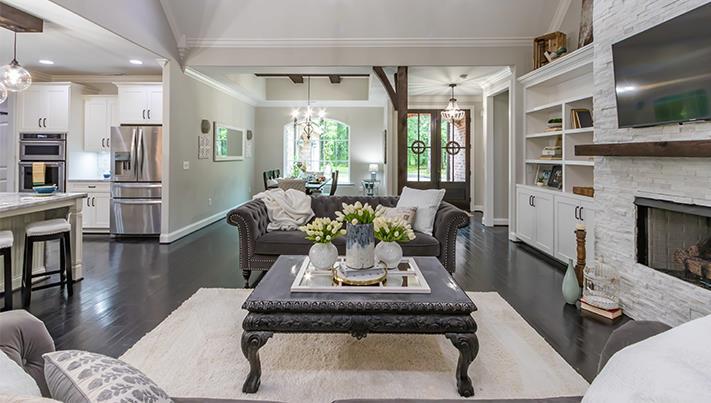 With winter fast approaching, our minds can't help wandering off to thoughts of cosy nights in at home, snuggling up around a roaring fire. To help your home weather the chill this winter, we at The Lighting Superstore are taking some inspiration from the latest Scandi design trends to give your home that cosy touch!
Keep it neutral
Scandinavian fashion is all about keeping things simple. To bring this minimalistic approach into your home, start with your colour palette – try out earthy colours such as whites, greys and other subdued tones – this could help you get the Scandi style without having to invest too much time or budget.
Since natural light in Nordic countries is a rarity in the colder months, a dimmed lamp or lit candle is a must-have feature.
If you want to add a touch of Scandinavian chic to your home this season, we recommend a modern, minimalistic lamp like the Decima Touch with dimmable lighting that allows you to create the perfect cosy ambience.
Embrace imperfections
One of the key standouts of Scandinavian style is the emphasis on 'lived-in' décor, which looks to nature for inspiration.
If you want to recreate this look in your home, investing in wooden furniture and experimenting with different natural textures, such as sheepskin and linen, is a great place to start.
These little touches can give your home a sense of character and make it feel more homely and inviting. If your surrounding décor is white or grey, you can add personal touches like your favourite photographs in bold frames to add a splash of colour.
Hygge it out
Pronounced 'hoo-ga' or 'hue-gah', this buzzword is fast becoming impossible to escape. Norwegian in origin, it can be roughly translated to 'wellbeing', although it has since been developed into a lifestyle by the Danish.
Hygge is often associated with feelings of 'cosiness' or 'togetherness' and can be used to describe pastimes like reading a good book or slipping into a relaxing bath.
If you want to achieve this contented state, think about how you can add rustic touches like throws and pillows to create an intimate vibe.
Strike a balance
While a pared-back aesthetic is a common feature of Scandi style, that doesn't mean you can't shell out for high-quality items that will stand the test of time. It's all about striking the right balance between form and function.
When it comes to the essentials, invest in durable materials like wood, wool and linen; fabrics and textures that will never go out of style.
Products like a Liam Wood Effect Small Pendant Light are prime examples of classic, unfussy accessories that strike a balance between luxury and function.
It's the thought that counts
If you want to fully adopt the hygge mindset, you need to value the space around you. Focus on turning your home into a sanctuary that provides an escape from the hustle and bustle of everyday life.
A key way you can achieve this is by filling each room with calming items creating a sense of belonging and relaxation like vintage, antique and heirloom pieces that inspire calm.
Remember, hygge is all about those small, precious moments, so make sure your house has items that are personal and sentimental, not just trendy.
Smell the roses
Getting cosy Scandi-style isn't just about aesthetics.
Smell plays a vital part in building a hygge-worthy atmosphere. Opt for scented candles and diffusers if you want to bring a sense of relaxation into your home.
Scents like lavender, jasmine and lemon can also help to manage stress levels and promote inner wellbeing.
As the weather takes a chilly turn and darkness beckons, it's the perfect time to take lessons from our Scandi cousins and make sure our homes are warm and inviting…even if the British weather isn't