Posted on 26th March 2018
London Property Market Update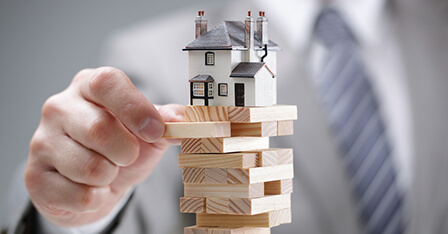 Residential Updates
In early March of this year Halifax released their report on the state of the UK Housing Market. This latest index, focusing on residential properties showcased many interesting figures and trends relating to the growth of the property market across the UK in the first months of 2018.
The average property price in the UK £224,353, which represents a fall of roughly £2000 in the last quarter of the year. This is down to reported growth declining from 2.2% to 1.8% from November to February. Halifax figures show cause for optimism as rates began to rise again by almost half a percent thanks to low mortgage rates and increasing employment levels. The low mortgage rate has led to a sharp rise in the mortgage approvals – a leading indicator of completed house sales – since January. Approvals rose by 9.4% each month from January to hit a peak of 67,478. Despite this being a positive figure, it is important to recognise that these represent a decrease of 2.4% on the figures from this point last year. Helping to keep the market from stagnating, the increase in mortgage approvals and a plateau in house prices provides hope for First Time Buyers as more options open-up in the wake of lower pricing.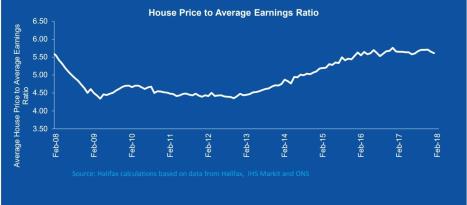 Home sales were 2% higher compared with the same months last year, and for the 13th month in a row monthly home sales rose beyond 100,000. despite this positive figures, that have been correlated alongside Nationwide's recently released index, indicators of weak housing supply and demand remain. A fall in new instructions for the 23rd month running and new buyers for the 10th month running continue to hamper market activity, representing the worse pattern since 2007-2009.
Commercial Updates
Total returns in commercial property growth rose by 0.6% in February , according to CBRE's Monthly Index Snapshot, despite environmental factors playing a large part in the ability for deals to be completed across the country. The largest increase was found within the Industrial segment which produced returns of 1.2% while retail property rose 0.4% and London Office space maintained its returns in line with national averages.
Although the figures are positive, further analysis reveals decrease in the quantity of Commercial Property leases in London, most notably seen through a 9% drop in leasing compared with the same time last year. As the professional services sectors continues to boom it shows a renewed vigour in the office segment and this can be seen in the strong performance of planned refurbishments when compared to new builds. The powerhouse of the commercial sector was the industrial segment, providing returns of 1.2%

In figures taken from Investment Property Forum's (IPF) UK Commercial real estate consensus report, worrying figures are slowly fading away. Since November average rental and capital value growth rates have increased from 0.4 to 0.8, and -0.7 to -0.2 respectively. Industrial growth forecasts expect a large rise of 2.7% in the next quarter bringing figures to 4% as the IPF report that 'the outlook for 2018 has improved over the three months since the last survey'. Research carried out by Capital Economics states the IPF has raised its forecast for all-property returns for 2018, helping to reflect a less worrying outlook for rental growth, improving their figures from 4.8% to 4.9%. The report surveyed a mix of 23 fund and investment companies and property consultants.
Investment Updates
From an investment angle, it is clear to see that residential homes still remain an uncertain proposition. This may remain the case until after March 2019, when article 55 will be triggered and international businesses based across the country will have made their decisions on whether they maintain headquarters in the UK or export to mainland Europe. A decision that could lead to a significant decrease in the number of jobs available across the UK and therefore the demand for housing. UK House builders are already feeling the strain, as the Financial Times mentions Berkeley in the unenviable position of 'Top FTSE faller' during February 2018. 'Berkeley led the FTSE 100 fallers after the housebuilder said that it will not be increasing production from current planned levels because of numerous headwinds to the London property market.'
A report from The Guardian reports a record high in Global Real Estate investments of $1.62 trillion in 2017, with Asian investors representing more than half of this figure. London continued to be the most sought after destination for international investors as Brexit worries were balanced with a fall in sterling. Many areas of London such as the 'evergreen' Mayfair continues to evolve as a current report from a Mayfair Estate Agent shows the positive impact on the conversion of Commercial property to Residential Property. These figures have been supported by actual investments, including one mystery Gulf investor that recently provided over £100m in a single transaction.
In total investment stock the UK remains 3.9% ahead of its closest European rival in Germany, but those investing are urged to be wary as trade wars and negotiations have the potential to push the property market off course.