Posted on 15th March 2018
How can the design and interiors industry become more sustainable?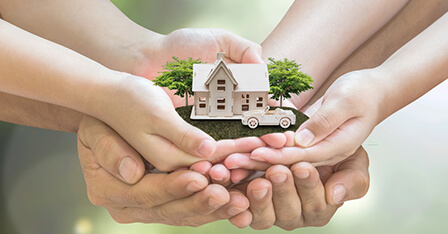 How can the design and interiors industry become more sustainable?
By Adam Baylis, Technical Director, Castrads?
Sustainability has become something of a buzzword in home design circles, but what does it mean in practical terms?
Merriam Webster dictionary defines it as: 'able to be used without being used up or destroyed; methods that do not completely use up or destroy natural resources; able to last for a very long time'. So, to make something truly sustainable, it needs to be built to last and people need to want to keep it.
Aesthetics once ruled consumer choice, but sustainability is now a major consideration. It's no longer enough to have a beautiful product; brands need to evolve in line with growing environmental and social pressures.
Adam Baylis, Technical Director at Castrads shares insight into how companies can adapt to this new age…
Challenging the throw-away society
A recent Global Sustainability Survey of young people aged 18-25 found almost half would spend more on products from a company which advocates sustainably. For the home design sector, sustainability ultimately means creating a product for the home which lasts and has minimum negative impact on the environment which consumers are happy to pay more for.
When manufacturing a product a carbon footprint is inevitable, but to get a full view of its environmental impact, you need to look at its whole lifecycle. For example, many cast iron radiators last 100 years or more and if they break, they can be fixed by replacing the damaged section. In comparison, the typical life expectancy for a steel panel radiator is just 25 years and if broken, they often need to be replaced. So, comparing the initial carbon footprints of steel and cast-iron radiators is only skimming the surface.
There's already a movement towards emotionally durable design which aims to build a longer lasting relationship between consumers and products. The term 'emotional' is used because wasteful patterns of consumption are predominately driven by emotional factors and people's experiences. The novelty wears off and we fall out of love with disposable items.
Cleaning up manufacturing
Reducing the environmental impact of your business isn't just the right thing to do or a question of meeting your legal obligations. It offers substantial and immediate business benefits, including reducing costs and improving your reputation.
Begin by assessing your environmental credentials to give you a base on which to improve. Useful tools such as energy audits will help you identify where you can do more with less. The Carbon Trust has published a comprehensive guide to energy surveys, with advice on carrying out your own basic survey, as well as the steps you should take to organise a more thorough assessment. Regular reviews can help you monitor progress and areas for improvement.
Switching to renewable energy can accelerate your progress by reducing your reliance on fossil fuels and help to offset your carbon emissions. You could even earn some tax-free money back from the government.
Home design companies can also save money and materials by using 3D printing. Creating multiple prototypes before settling on a final design can be wasteful and expensive, but a 3D printer can build new parts and test different designs quickly and efficiently. At Castrads, by 3D printing our new design prototypes we're able to take the design and development of Victorian-era products into the 21st Century.
Efficient technology
The design and manufacturing industry is in the early stages of digitalisation, but it is one of the areas set to benefit most from emerging technologies. It has the potential to enhance productivity, raise throughput, improve predictions, outcomes, accuracy, and optimisation.
In-house at Castrads, we're using big data to inform our business development. For example, we analysed real data from thousands of orders to compare actual order processing times versus the time we promised customer. As a result, we were able to improve scheduling of orders and drastically reduced the number of late orders.
Our newest product also incorporates machine learning. We know our customers are environmentally conscious and want beautiful interior products. To fulfil both needs, we've collaborated with Genius Hub to create the industry's first personalised smart radiator valve. The valves learn how long it takes for your house to heat up and will turn your heating on at the right time, so you're warm when you need it to be. Instead of offering our customers, who have invested time and thought into building their bespoke radiator, the standard white plastic smart valves, we've matched the surrounds to our exclusive paints and finishes.
Social consciousness
Every action a business or consumer takes has an impact on someone, somewhere. Therefore, the design and interiors industry should look beyond just going 'green' to make sure they make a positive social impact too.
While it may be impossible to have all of your suppliers or manufacturers based in the UK, it's your responsibility to ensure your supply chain is managed responsibly to minimise risks, ensure quality, keep security of supply and reduce negative social impact. Make sure you set minimum supplier standards and wherever possible, make the visit to your foreign partners to ensure they're living up to expectations.
Another positive social action an employer can take is to adhere to the Living Wage for UK employees. The Living Wage is an hourly rate set independently and updated annually in line with inflation. At Castrads everyone, regardless of whether they're direct employees or third-party contracted staff, receives a minimum hourly wage of £8.45 in the UK or £9.75 in London, reflective of a 'real' living wage.