Posted on 20th December 2018
Fight Crime in Your Home this Christmas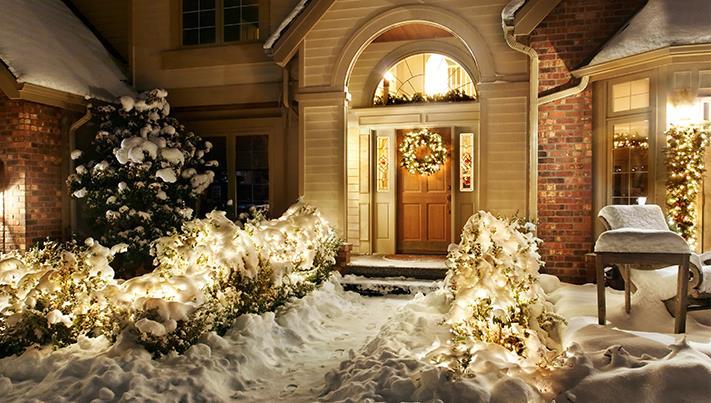 The Christmas period is a time for celebration and joy, spent with friends and loved ones. Presents have been bought, 'out of office' has been switched on and festive cheer is in full swing. Yet amongst all the revelries, it can be easy to overlook home security during a period when homes are most prone to crime.
Time away visiting relatives or nights out spent at Christmas parties are prime opportunities for burglars to do their dirty work on empty and vulnerable homes. December 2016 was the month which saw the highest rate of home break-ins of that year according to 'UK Crime Stats', while December 2017 incurred a 19.4% increase in robberies than that 12 months earlier*.
Given such worrying statistics and with the festive season only weeks away, Robert Dyas has compiled a security guide to help ensure your property and possessions are safeguarded from thieves this Christmas. After all, your home is your castle.
The Winter Solstice lands on 21st December, marking the shortest day of the year. With decreasing daylight throughout winter, criminals are likely to take advantage of the long, drawn out evenings. "Whilst such a special time of year, Christmas can be hazardous for keeping your home safe without the correct security measures in place" says Robert Dyas' Senior DIY Buyer, Shufquat Shah. "We have an abundance of home security products so that no matter your budget or space, you'll be guaranteed to help deter unwanted visitors".
Illuminate your space with a LED security light which will alert to any unexpected outside movement. The wall-mounted Robert Dyas White PIR Flood Light (Was £19.99 now £14.99) has a directional PIR sensor which lights up when motion is detected, whilst also helping you to see clearly when re-entering your home in the dark.
Nothing says an empty house like one shrouded in darkness and sometimes the simplest solutions are the most useful when it comes to securing homes. If you are leaving the house just for the evening, why not leave the lights and radio on and draw your blinds or curtains to give the appearance of somebody being inside? In addition, this Unicom 24-Hour Segment Timer (£6.99) allows your lights to be switched on and off at times of your choosing, making your home look occupied no matter how long you are away for.
Sound the alarm. The UK police website advises that fitting a visual burglar alarm inside your home will help to prevent thieves. This Bosch Smart Home Motion Detector (£69.95) uses infra-red technology to detect motion from up to 12 metres away and will sound an alarm siren and smartphone app notification to alert you to any intruders whilst away from your home.
Go one step further and add round-the-clock visuals to your security measures. From a home-owner's point of view, peace of mind is paramount when using a recordable video system and nothing says 'caught in the act' like an intruder's face being filmed on CCTV. A security camera system such as the Ring Spotlight Cam Rechargeable Wireless Home Security Camera and Siren Alarm – White (£199.00 reduced to £169.00) means your home is under surveillance even at night, when most susceptible to crime.
According to a report undertaken in July 2017 by the Office for National Statistics, the most likely households to be targeted by burglars are single occupancy homes or those where the responsible adult at the time of the incident was aged 16-24**. Always be able to identify who is at your front door, with this Ring Wi-Fi Video Doorbell 2 (£149.00), perfect for when you are away, or if you are home alone.
Whilst you may have visual measures covered, don't forget the most obvious – entry point security. Help prevent forced entry with up-to-date locking mechanisms on doors and windows. One of the weakest areas of your home are the French windows or conservatory doors. These areas are often targeted by thieves, as they are usually found at the back of a house where entry is less visible. Out-wit intruders with the Patlock French Patio Keyless Security Lock (£54.99 reduced to £49.99) which prevents your door handles from being opened, even if their original lock is broken. For fool-proofing your front door, the Yale Traditional Front Door Lock (£25.99) will deadlock any opening door to provide a high standard of locking for your home.
If the worst should happen, keep any valuables that you may not carry with you, safeguarded. Electrical goods, important documentation or jewellery are often targeted by thieves and are the most exposed when families head away for the Christmas period. Using a home safe such as the Yale Certified Electronic Digital Home Safe (£149.99) will help protect your precious possessions.
If you are really concerned about security, don't forget that befriending your neighbours is helpful as you can look out for one another. You might even consider joining a neighbourhood watch group.