Posted on 3rd August 2018
Challenging conceptions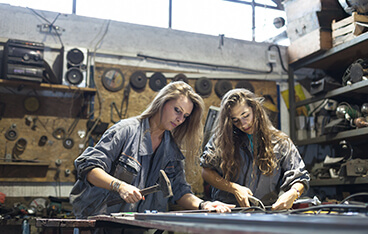 Women making their mark in male-dominated industries
Number of women training for roles more traditionally held by men rising
Recent analysis of internal data from online training course provider findcourses.co.uk, has shown the traditional industry gender splits, which indicated more employees of one sex than the other in certain roles, are significantly changing.
By analysing the number of men and women researching its training courses, findcourses.co.uk has determined more women are turning the gender tables and looking to develop their skills in traditionally male-dominated industries.

One of the biggest developments observed is the increase in women undertaking electrical engineering courses. In the last year alone, the number of females researching the course has risen by 85 percent.
Comparably, the number of men looking into these qualifications has fallen dramatically by nearly 80 percent.
80 percent of all enquiries now come from women, which is especially impactful as only 0.1 percent of electricians are women.
A number of factors are believed to have contributed to this trend, such as more schools and universities making intentional efforts to inspire women to enter the field. Many professional organisations are also partnering in these efforts too.
While the industries of Logistics and Transport and Oil and Gas typically have an 80 percent male workforce, it is reassuring to see 43 percent and 36 percent of interest in courses focused on these industries, is coming from women, over the last year.
This surge in women looking to oil and gas training may be influenced by the decline in crude prices three years ago, encouraging many major oil companies to modernise outdated business models and create more opportunities for women.
Another industry women are beginning to make headway in is construction. Although seeing a female worker on a building site still might seem like a rarity, 30 percent of research into construction-related courses came from women this year.
It's not just women bucking the trend either. While it is estimated around 70 percent of administration workers are women, findcourses.co.uk's data suggests nearly 40 percent of the people currently undertaking office admin training are men.
Liza Andersin, Head of HR for findcourses.co.uk commented:
'While the results of the data show a positive trend, it has also highlighted there is still work to be done to ensure industries encourage equal numbers of both men and women to join their workforces.'
'The recent media coverage of the gender pay gap has catapulted the issue of equality in the workplace firmly to the forefront of business' minds. It's empowering to see women taking action to break into more typically male-dominated industries.'