Posted on 26th June 2018
Are flood-hit properties an investment likely to sink or swim?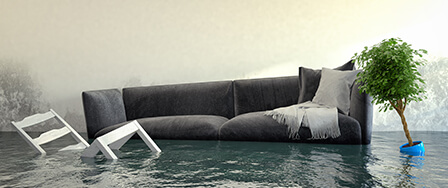 This article was written by Heath Crawford, providers of building insurance to property owners across the UK
With The Environment Agency recently announcing a warning to say that after 10 years of increased flooding, intense bouts of flooding are 'set to become more frequent' – is buying a property in a flood risk area wise?
There are a number of factors, both positive and negative, to buying property in an area prone to flooding:
Pros
– The health benefits
There is a vast amount of global research that backs the health benefits of living near water such as a river, lake or the sea.
This includes research from the European Centre for Environmental and Human Health at the University of Exeter who looked at data from more than 48 million people to discover that the closer a person lives to water, the better for their health.
Other studies have highlighted the psychological benefits of living near water. People who live near water are calmer and have reduced stress.
Not only this, but living near water can promote physical activity with water related sports and the incentive to go walk in the surrounding scenery.
Areas near water have a higher risk of flooding – yet they still remain desirable as people weigh up the health benefits.
– Flooding is rarely on a large scale
When living in your new home you don't want to be fretting every time it rains. It is wise to put things into perspective and to check out the flood data on the Environment Agency website before you buy – don't rely on the estate agent to tell you.
The fact is that many homes said to be at high risk of flooding have never actually flooded.
Add to this, when flooding does occur – it is rarely on a large scale.
– Property near water is very sellable
Living near water or with a view of water from the windows is highly desirable. There is a reason why riverside homes can sell quickly.
Cons
– Higher insurance costs
Make sure you get an insurance quote as early as possible if you are thinking about buying a property in a flood zone as costs may be higher. It pays to shop around – find an insurer who is knowledgeable about flood risk.
Even a flat owner above the ground floor will find they have higher insurance costs as flooding can affect the entire block even if the water doesn't reach the level of your flat. Flooding in the communal areas and the ground floor entrance can cut off the access to your flat and flooding can also affect electricity and sewage services to the whole block.
Some seaside properties near areas of coastal erosion find it hard to get building insurance so check before you buy – you don't want your home falling into the sea!
– Floodproofing costs
If your chosen property is in a flood risk zone you can also flood proof your property in various ways. You can landscape gardens and pathways leading up to your front door. You can also replace any carpets with wood or stone floors.
– Maintenance costs
Property by the sea, for example, can suffer from damage from high levels of moisture and salt. You need to be prepared in this case to spend time and money on maintenance. You will need to paint the exterior of your property every few years and any external timber needs to be treated regularly.
Many properties in an area of high moisture need to have any wooden window frames replaced by plastic UPVC windows.
Making the decision
If you decide to buy a home in a flood risk area make sure your conveyance lawyer does the very best checks for flooding, look into flood-proofing DIY and go through the small details with your insurers. Finally, make sure you buy at a reasonable price if you want to sell in a few years so that you can potentially make a profit.
If you assess all the risks before you buy, living near water can be the dream.