Posted on 5th September 2018
An Aura of Luxury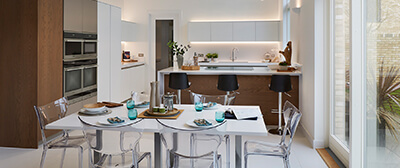 On any residential scheme, the kitchen specification is critical to attracting buyers. Pitching the kitchen design, materials and appliances at a level that is right for the development in and target buyers is critical to the overall success of the project and its sales performance.
The Clay Farm development in Cambridgeshire is a huge mixed used development comprising up to 2,300 new homes, more than 3,000 m2 of retail and commercial accommodation, new schools, a health centre and 49 hectares of public open space, involving multiple developers over a number of phases. Here, residential developers not only need to create the right kitchen spec to meet the expectations of target buyers, they also have to differentiate their new homes from competitor schemes in the same location and kitchens are an important factor in achieving the required wow factor.
It's a challenge that has been addressed by Countryside Properties, a home builder with a significant proportion of the development plots at Clay Farm, by working with contract kitchen specialist, Commodore Kitchens. Not only has this partnership enabled Countryside Properties to differentiate its homes with a high end look, it has also allowed a tiering of quality specification and design to differentiate the homes on offer within its own portfolio, offering both high end specification in standard homes and designer-led luxury in the 'Mansions' and 'Villas' on site.
Developing the Brief
Countryside Properties' current development at Clay Farm is Aura; a luxury development of three-bedroom apartments, three and four bedroom houses and four-bedroom villas on the Long Road entrance to the development. The scheme is currently at fit out stage for phases six and seven and has combined high end-living with the super-luxury associated with celebrity lifestyles.
Commodore Kitchens is a preferred supplier to Countryside Properties and has worked with the developer for a number of years, so understands the company's approach to using kitchen design and materials to differentiate its own homes and achieve stand out from other developers. On the Aura project, the design brief combined an evolution of the styles that had been successful on previous Clay Farm developments with detailed research into the target demographic and inspiration from Commodore Kitchens' previous designs.
Explains Catherine Brooking, director (development) at Countryside Properties: 'We used a combination of market research and experience of previous phases to inform the design brief. The Aura development is aimed at a sophisticated buyer that wants a timeless, classic home that offers luxury without ostentation.
'Consequently, our requirements were for a neutral palette and a design with clean lines and elegance across all property types. For the Villas and Mansions, this had to be elevated to an even higher level of luxury, with designer touches in the cabinet and worktop finishes and best in class appliances.'
Luxury Living as Standard
The specification for the three and four bedroom homes at Aura is an evolution of the kitchen design for the Abode development; a previous Countryside Properties scheme at Clay Farm for which Commodore Kitchens also designed, fabricated and installed the kitchens.
The kitchen layout for these properties was largely dictated by the design of the houses and apartments and the units are a high quality, white gloss handless style to offer a neutral look and feel that blends effortlessly into the living/dining space of the open play homes.
Continuing the high quality, timeless look, the worktops have been specified as white quartz composite with a slim 20mm profile for a designer feel and a highly polished finish. Induction hobs have been specified to provide a smooth, inobtrusive cooking area that is both easy to clean and flush with the worktop surface. This has been scaled to match the size of the kitchen and property, with additional hob size for the larger houses.
Each kitchen also features an integrated oven, combination oven/microwave, fridge freezer and dishwasher with laundry appliances fitted in a separate utility space.
Matt Goddon from Commodore Kitchens comments: 'The kitchens specified for these homes are equivalent to what buyers might expect from any contemporary luxury living development. The challenge was to take this template and raise the specification to another level for the Mansions and Villas.'
Raising the Bar to Super-Luxury
Much of the materiality for the kitchens in the Aura Mansions and Villas has been influenced by a full-scale mock up kitchen, which Commodore Kitchens built for a previous project. The Countryside Properties team viewed this as part of their design brief development when visiting the research and development showroom at Commodore Kitchens' workshop and developed the ideas they'd seen with some concepts of their own to create the finished specification.
Catherine continues: 'One of the benefits of working with Commodore Kitchens is that they offer a complete design, fabrication and install service, which means that they can create bespoke units, incorporating non-standard sizes and finishes.
'On these properties, because the footprint is so large, there has been lots of design flexibility and Commodore Kitchens have been able to suggest ways in which the kitchen space can be used creatively to maximise impact and complement the living/dining area.'
Each of the Mansions and Villas features a kitchen/living/dining space which leads on to a separate utility area which has been specified to the same high standards with the same materials. They all also have a separate living room and formal dining room and some also feature a double height kitchen space that can be overlooked from the living room via an internal balcony.
The kitchen units and worktops reference the specification from the other houses while elevating it to an even more luxurious level. The handless base and wall units have been spray-finished in matt white with a stone grey recess detail and stone grey accent units. The tall units meanwhile have been specified in crown cut oak veneer and this is carried though to some of the other details, such as the full height glass-fronted wine coolers positioned close to the transition to the utility room.
The white quartz composite worktops also provide connectivity with the standard Aura homes, however, in the Mansions and Villas, these are 80mm thick and honed finished for a luxurious look and feel.
Meanwhile, the calibre and variety of integrated appliances has also been upgraded for the Mansions and the Villas, with two single ovens, a microwave, a steam oven, a full height fridge, a full height freezer, a dishwasher, and an induction hob all specified as Miele appliances alongside the wine cooler.
Catherine adds: 'The kitchen is always the heart of the home and at the Aura Mansions and Villas, we have ensured that it offers buyers something really special in terms of quality, functionality and aesthetics, reflecting the overall design ethos of these very special homes.'