Posted on 19th June 2018
6 ways to add period charm to a new-build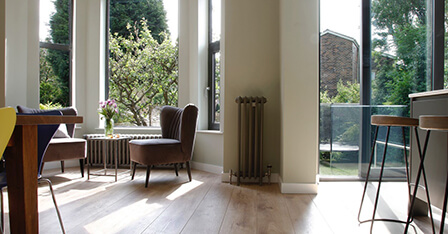 While newer properties can have their own character and atmosphere, classic designs and traditional features work well as a contrast to showcase more modern designs.
For some, the straight-lined perfection of a modern home can lack charm, but we see it as a blank canvas to create your dream home, without many of the constraints that come with a period property.
So, how can you introduce some enduring period allure to your modern property?
1. Visit the reclamation yard
Why buy reproduction when you could rescue the real thing? Back in the days when recycling was a dirty word, a few resourceful people started gathering other people's building scraps and selling them on. These days it's called architectural salvage and it's big business.
Find a Salvo approved yard and go in search of hidden gems. Look for original ornate ceiling roses, classic wooden doors and old floorboards or Victorian tiles which will transform the look and feel of your whole room.
2. Think about your colours
The colour palette for creating period ambience in your home is very important. Colours play a huge role in not only making your house a home but honing its style and atmosphere.
Stark white is never going to look timeless, so take a look at the Traditional Neutrals options from Farrow and Ball. The subtle grey green undertones will add a softness to each finish, making it feel as though it's been there for years.
3. Invest in traditional-style radiators
A throwback to the era of Victorian grandeur, a cast iron radiator has the power to not only make an elegant statement in your home but alleviates the need for garish white steel radiators often found in newer builds.
Investing in statement cast iron radiators will add a touch of charm to your home, with the added reliability and efficiency of modern styles. For an added twist on the interior classic, opt for eye-catching jewel shades to firmly bring it into the 21st century.
4. Period, but eco-friendly, fireplaces
While we no longer have to rely on fireplaces for heating our homes, their period charm needn't be lost.
Look to install a slightly oversized ornate fireplace, the details of which will act in contrast to your modern room. There are plenty of eco-friendlier electric fireplaces on the market which don't release any toxic fumes into your home.
Hang a lavish mirror over the mantle to complete the look and draw all eyes to the fireplace as a centrepiece.
5. Let there be (natural) light
Many modern houses have highly efficient double-glazed PVC windows; great for efficiency but not style.
Wooden frames are traditionally less efficient, but with modern advances, you can now have the best of both worlds. Super-thin double glazing has been developed, allowing the use of thin replica window frames, which are much more aesthetically pleasing.
Timber windows can also be low maintenance, either stained hardwood, or timber coated with an external layer of PVC, vinyl or aluminium.
6. Find beauty in the small details
Subtle detailing in a home has the power to transform a room. Modern skirting is simple and minimalist, but look to update it to something more ornate, with matching picture rails and coving.
Consider installing wooden shutters on the insides of your windows. While they may be slightly more expensive then curtains or blinds, the added charm will be worth the investment.