Posted on 26th May 2017
The 2017 Infrastructure Awards Press Release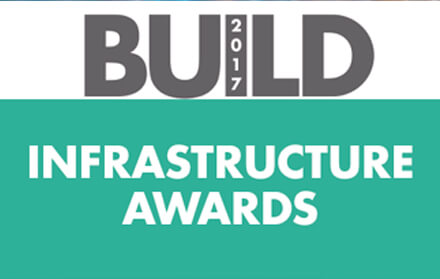 BUILD Magazine Announces The 2017 Infrastructure Awards Winners.
United Kingdom, May 2017– BUILD Magazine has announced winners of the 2017 Infrastructure Awards.
Whilst investment in infrastructure can be costly, it is a necessary requirement of ensuring the wellbeing of the population and represents a significant return on investment, with 80% ROI recorded for road investment and 40% on electricity generation and telecommunications.
Therefore, the 2017 Infrastructure Awards have been established to recognise and reward the firms operating in this industry which forms the backbone of our society. The awards consider businesses of all sizes and across all areas of the market, from IT suppliers to healthcare providers, financial services firms to road builders and everything in between.
Conor Woolven, Awards Co-ordinator, said: 'The infrastructure industry represents the lifeblood of our built environment. This vital sector is often overlooked by governments and councils, with many developing countries lacking the infrastructure to support long term economic growth. As such it is my genuine pleasure to showcase the hard work and commitment of the dedicated firms, and the individuals driving them, that have helped this vital industry to face the challenges that the ever evolving construction market throws at it. I would just like to congratulate my winners and wish them the best of fortunes going forward.'
To find out more about these prestigious awards, and the dedicated professionals selected for them, please visit http://www.build-review.com where you can view our winners supplement and full winners list.
ENDS
Notes to editors.
About BUILD
Published monthly, Build endeavours to bring you the latest need-to-know content and updates from across the global construction and property industries.
Keeping pace with a vast array of ever-changing sectors thanks to regular contributions from some of the world's foremost construction, design and real estate experts and firms, Build is home to the very best news, features and comment from the people and institutions in the know. Taking in everything from the latest products and techniques, to up-to-the-minute design trends and industry-moulding regulations, Build should be the first port of call for any construction or property professional looking to remain on the cutting edge when it comes to their or related industries.