Posted on 20th September 2017
Strong Foundations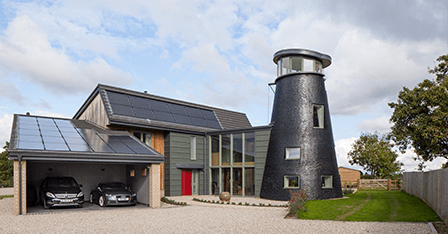 Strong Foundations
Trading since 1965, Offord and Camp are a family business that has a wealth of experience in both historic and modern forms of construction. The company was delighted to receive the exclusive 'Best General Builder, South East England' in the Cambridgeshire category, within the 2017 Industry Awards. To mark this success, we interviewed Tim Offord to discover more about the company's work and his thoughts on the wider construction industry.
The current partners of Offord and Camp, John and Tim Offord, are both chartered engineers who gained experience working for larger engineering companies before joining the business, set up by Frank Offord (John's father) and Jack Camp. This means that they can take on almost any type of project and approach it with technical, as well as a practical experience. Tim Offord explains the scope of the company's work and how the staff there are managed, as this in-depth interview starts.
'We undertake work on a wide variety of projects on many scales, from changing a light bulb to large scale refurbishment of listed buildings and the construction of new dwellings. We also undertake works in laboratories, schools and manufacturing plants where programme management and working within live environments, are often critical to the project's success.
'We have an almost familial relationship with our staff, many of whom have worked with us for a long period. We find that by taking an interest in their lives, as well as how they perform at work, that makes for a much nicer workplace. Most of our staff are in full-time employment with us and as such, their turnover is very low for the industry. This helps us to be sure that we can place the correct people on the right job, which we find is particularly important when
working in someone's house, whilst they are still in occupation.
'To try to ensure that this approach is maintained in the long-term, when people feel that it is time to move on, we endeavour to replace them with an apprentice wherever possible. This has the benefit of bringing more people into the trade (of which are too few now), as well as us being able to teach them how to work considerately as well as efficiently.'
When undertaking a new client or project, Tim then explains how the company ensures that the best possible outcome is always achieved. He also explains the factors that set them apart from other competitors in the wider industry.
'As a large percentage of the company's work is domestic, there is always a personal attachment to the work, from a client's perspective. We find that working with the client to establish what they require from a project, which may not always be what is shown on the drawings, enables us to leave them happy that the finished project is exactly what they want.
'We also find that many domestic clients struggle to visualise the 3-dimensional image, from 2-dimensional drawings. We have used many methods, most of them very simple, to aid this interpretation and help clients make decisions that they remain happy with throughout the project and beyond.
'Throughout the company, we have a good reputation for getting the details right. From attention to detail on finished floor levels to ensuring that there is a continuity of detailing on internal joinery and paint finishes throughout a property, we pride ourselves on being able to make alterations and extensions to existing buildings feel as if they were part of the original structure.
'We also enjoy both technical challenges and problem solving. We regularly get asked to undertake projects by architects, as they want to use our experience to solve problems with potentially challenging details. We can often find safer and more economic ways to construct elements of a project, which can then be incorporated into the design at an earlier stage.'
On winning the 'Best General Builder, South East England' in the Cambridgeshire category, within the 2017 Industry Awards, Tim details what this means to him and his colleagues.
'We were surprised, but very honoured to have been selected in the Best General Builder, South East England' in the Cambridgeshire category, within the 2017 Industry Awards. We are unsure who nominated us for the award, but it is very pleasing to know that clients or architects think that we deserve recognition for our work. We recently won an LABC award for East Anglia for the conversion of an old windmill and so the two awards will sit in pride of place at the office.
'We would never expect to win an award. We have never selfnominated any of our projects for awards, so just being in the frame for one is always a pleasant surprise. However, it will not change the work that we carry out. Most of the company's work comes from repeat clients, architects or word of mouth and as such, we will continue to put every effort into each project to try to ensure that the reputation that we have earnt over three generations is not lost.'
On the wider construction industry in the UK today, Tim is keen to reveal his insights into this and how it has impacted the company's work.
'The construction industry around Cambridge is very buoyant now and has been for the past eight years. We are very fortunate to be working in this location, as the hardships caused by the economic downturn that are still ongoing in many areas of the country, have not been felt here. However, this local boom has reignited the debate about the biggest problem that the construction industry is facing now – tradesmen. There are simply not enough tradesmen in the area to undertake the volume of work that is currently available.
'As a company, we have always taken on and trained apprentices. We have two now, who have just completed their NVQ level 3, one who is just going into the third year of his NVQ and a new apprentice starting shortly. However, we need the senior tradesmen to be able to pass on both their experience and knowledge to the apprentices. We are very fortunate and grateful that we have an excellent group of senior tradesmen, who have worked with us for many years and they have all trained many apprentices in their time.
'We need people who can work in both historic buildings and modern, hi-specification houses and the only way to achieve this is through experience of both areas of work. With the greatest of respect to many in the trade, banging up hundreds of meters of straight stud walling around huge housing estates may be a good way to earn a fast few pounds. Having said this, it will not help the industry in 20 years' time, when there will be very few people with the skills and experience to work on the more complicated and traditional works that we undertake.'
In terms of what has been the company's most successful project to date, Tim tells us that while one cannot be singled out, each one has unique challenges.
'Each project brings its own challenges and experiences, as no two projects that we work on are the same. Some can be similar in form, but the clients that we are working for can be completely different in terms of their personalities and as such, this brings a different sort of challenge for both us.
'We recently completed the construction of a circular house,
which has no central support for the roof. The whole structure is held in place by a tension ring at the base and a compression ring at the apex, which supports a 1.8m diameter circular roof light. Constructing the roof was a technical challenge, as we had to support the large steel ring beam, whilst we connected all the rafters. The ring beam was centralised over the centre of the circle, with an old-fashioned plumb-bob, as we found this to be the most accurate solution when lots of elements are hanging in the air.
'During the construction phase of the house, we found out that at least four other local builders had been approached to build the house. Having said that, none of them had been willing to do so as they would not take on the technical challenges associated with it, let alone give a fixed price for it.'
On how the company ensures they create innovative solutions to maintain their success, Tim is eager to explain this point further to us.
'We feel that many of the new innovations coming into the industry, are being brought about by the need to use unskilled labour to perform tasks, that previously only experienced tradesmen could do. Screws are being replaced with glues, lead flashings are being replaced with tapes and no-one is sure how long these new methods will last as no one has tested them in-situ for 20 years. Where we find a new solution that does improve efficiency or reduce cost for clients, without compromising on quality, then we will happily take that on board and use it on future projects.
'We can also develop ingenious ways of transporting large beams or windows to the rear gardens of people's houses. However, we are firmly of the opinion that if something is going to be fixed, it will be done so in a way that it will last for the next 50 years and not the just the next year until the defects period has ended.'
Bringing his insightful thoughts to a close, Tim tells us how he sees the market changing over the next 12 months and his ambitions for the company.
'We think that the industry is going to go through some tough and changing times over the next few years. We are concerned that the current boom is being built of the back of too much debt again and as such, if we suffer a similar economic downturn to that which hit in 2008, then the recovery may not be so quick.
'The disaster at Grenfell Tower will also have significant implications for fire safety and that responsibility around inspections will be made clearer. We expect that Building Control and other professionals, will be required to make many more visits to the site. The impact of Brexit has also yet to really be understood. If the eastern European labour force, which underpins so much of the work on large sites is lost, then the shortage that we mentioned earlier is only going to get worse.
'We are a family company and as such, we are built on such an ethos. We have a great group of employees and we will continue to work with them to hopefully provide clients with buildings of which they are proud for many years to come. The final word must go to the people that nominated us. Thank you for the honour and we are glad that we continue to deliver projects that you consider to be worthy of such an award.'
Company: Offord and Camp LLP
Name: Tim Offord
Email: [email protected]
Web Address: www.offordandcamp.co.uk
Address: Studio 3b Penn Farm Harston Road, Haslingfield CB23 1JZ, UK
Telephone: +44 (0)1223 872 449