Posted on 6th January 2017
Plowman Craven: Building Brilliance Through BIM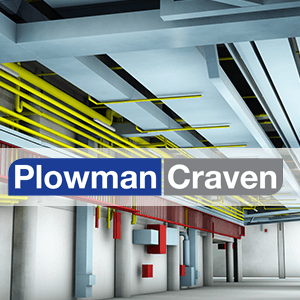 Plowman Craven is one of the largest geomatics companies in the UK, providing integrated measurement and consultancy services, predominantly to the property and infrastructure markets. With more than 50 years' experience, this technology-focused company enjoys an enviable reputation for being at the forefront of technical innovation and offers a broad range of services – from property measurement, underground utilities mapping and rail surveys to environmental monitoring, building information modelling (BIM) and even scanning actors, props and sets for the film visual effects market. As such we have named this innovative company 'BIM Firm of the Year'. We profile the firm and explore the secrets behind its success.
Plowman Craven was the first survey company in Europe to adopt laser scanning and it is this commitment to technological advancement that has enabled it to play key roles in some of the UK's most prestigious development, regeneration and infrastructure projects.
Whether it's Crossrail, Thames Tideway, Kings Cross Central or The Shard, the early adoption of the latest techniques such as intelligent modelling, interactive client portals or the use of UAVs to gather survey-grade data, is one of the defining aspects of this multi-disciplinary company, enabling clients to fully benefit from that innovation.
Collaborating with clients at every stage of the project lifecycle, Plowman Craven is effectively a one-stop-shop for all their survey requirements, delivering accuracy and quality to customers who trust the company's expertise and professionalism.
But according to Managing Director, Andy Molloy, there is no room for complacency despite another successful year. 'We're a fast-paced, fast-moving business that wants to grow – and we have clear plans in place to help us achieve this,' he says.
'We're a market leader in our industry, with success being built on strong client relationships, understanding what they want and trying to meet those expectations. We're held in high regard by these customers, so as long as we continue to differentiate ourselves through exemplary service, an innovative approach and fast delivery, we will continue to flourish.'
Leading the way in BIM…
Key to this growth is Plowman Craven's Property Services division. The Property Management and Investment arm provides everything from area referencing and IPMS to building surveys and technical due diligence, while the Property Development function offers measurement and consultative services to deliver best-fit solutions through all phases of a project.
Underpinning Property Development for Plowman Craven is a commitment to taking a lead role in the application of Building Information Modelling (BIM) in the geospatial community, helping architectural, engineering and construction stakeholders to implement the BIM process as a preferred tool for their projects, in line with PAS 1192:2.
It's about creating long-life, multi-purpose data relating to a building that can be shared around through the design, construction and management over its entire lifecycle. The company is involved in that process from end to end, starting off with topographical surveys and ending up with the delivery of vital information for letting, selling and valuation. With customers being developers, designers, contractors and end-users it's a natural fit that BIM consultancy services are a key part of the offering.
The company continues to develop ground-breaking processes which add real world, site-facing value to both surveying outputs and BIM models, and it was this clearly defined focus on BIM excellence that impressed judges and resulted in the award of BIM Firm of the Year.
Managing Asset Data…
Plowman Craven's commitment to delivering fast and accurate survey data as complete Building Information Models underpins its provision of professional advice on how major developments should have their spatial and asset data managed.
One of the company's most notable contributions in this area has been the creation of the noted Scan-to-BIM Survey Specification document. Often copied and appropriated, this comprehensive resource is openly available and has become something of an industry benchmark. The Plowman Craven BIM Spec enjoys an international reputation… and even turned up during a recent lecture at Dresden University in which it was cited as the UK standard.
This pioneering nature has also seen Plowman Craven develop the process of Construction Verification which involves the federation of highly accurate point cloud data with Project Information Models in order to identify differences between design intent and constructed reality. The value of Construction Verification is immense, offering documented, independent certification of the positional accuracy and content of installations, saving clients both money and time.
The Future…
The natural development of Plowman Craven's Scan-to-BIM modelling has led the company to offer a far more strategic BIM delivery service that includes production of OIR, AIR, EIR and BEP's, model federation, model authoring and auditing along with Construction Verification and general Model Information Management tasks.
But rather than simply focussing on the accuracy of geometry as the requirement for data-rich models increases, the future of outputs will focus on immersive technology. This includes Virtual Reality, Augmented Reality and BIM caves, all of which support a better understanding of complex geometries delivered via Gamification.
Mobile technology is vital, and modern clients expect to consume in an immersive way. The goal is to put them inside the model, enabling them to experience it virtually and interact with the design – making changes before anything is even built. These models will then be floating in the cloud, rather than sitting in isolation, paving the way for a future where smart buildings can eventually feed data back in to the models through dynamic sensoring. Through a truly collaborative and structured approach, Plowman Craven delivers BIM as the client requires, not as the supply-chain interprets.
Company: Plowman Craven
Name: Michael Johnson
Email: [email protected]
Web Address: www.plowmancraven.co.uk
Address: Plowman Craven House, Lower Luton Road, Harpenden, AL5 5EQ, UK
Telephone: 01582 765566