Posted on 4th January 2017
Cementing a Future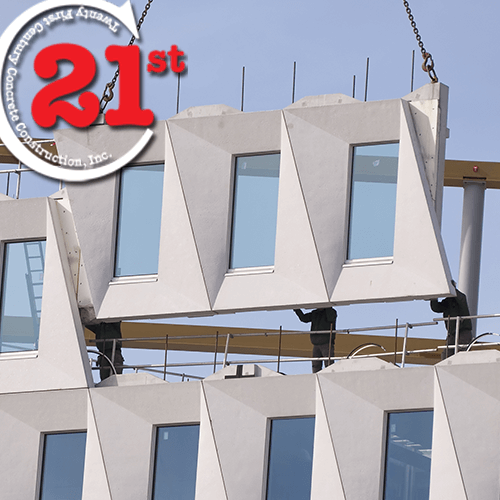 All those that need concrete for their commercial projects in the Cleveland, Ohio area need look no further than 21st Century Concrete, the Construction Firm of the Year. Boasting clients including NASA, Cleveland State University, First Energy and Hopkins Airport, this family-owned commercial concrete contractor provides optimum-quality concrete that has made its way into virtually every aspect of the construction market, being used in municipal buildings, government buildings, healthcare facilities, educational facilities, shopping centres, restaurants, arenas, manufacturing facilities, warehouses, parking garages and office buildings.
21st Century Concrete's commercial services include pre-stressed, multi-level buildings, foundational, structuralengineered designs. Being ODOT-certified grants the company the added ability, in addition to concrete work, to also conduct electrical signalization and infrastructure projects. Primarily, though, as a concrete contractor, they also perform concrete restoration and maintenance work, as well as excavation and demolition for site preparation.
Through all of this, 21st Century Concrete strive to satisfy every commercial concrete client with quality work, coming in on time and on budget. No concrete job is too big or too small for 21st Century Concrete Construction's contractors; with decades of experience, their management team is well-versed in all phases of commercial concrete and construction, and this brings with it a cast-iron will to deliver all ongoing projects to meets the budget and timeline of their clients, whatever the circumstance.
This is particularly poignant for the company, being a family-owned and -run company with deep connections to its origins. The Butler family's roots in the construction industry date back to their grandfather, James Butler, who was a home builder in up-state New York. Two of his sons, Jim and Gary Butler started their construction careers with their father in that business. With ambitions outside the family home building, Jim and Gary left their small hometown in the late 1960's and 70's, respectfully, and ended up working with a growing and reputable commercial concrete company in Cleveland, Ohio.
Jim, who served in the Vietnam War with the Army's Core of Engineers after obtaining is Civil Engineering degree in college form North-Eastern University, has over 35 years' experience in the concrete industry and has been recognized by his peers with many honours and awards, one of the more recent of which was from the American Society of Estimators. Jim later graduated from Case Western Reserve's Weatherhead School of Management with his MBA. Gary, meanwhile, has over 25 years' field experience in the concrete industry, and is one of 21st CC's most experienced and knowledgeable field managers.
The company itself was not founded until 2001, by Jim's son Patrick Butler. Jim, who attended the University of Cincinnati and received degrees in Construction Management and Business, before working in the field with Gary and others, learning the concrete and construction industry along the way, now heads up the family business, along with his father, uncle, and two siblings. Kevin Butler, who is now Vice President of 21st CC in addition to the holder of the duties of Chief Estimator, started out in the company as an estimator after receiving his chemical engineering degree from North Carolina State University. Tim Butler, meanwhile, started out in the company as a labourer while attending college. Upon graduation from Bowling Green in Construction Management, Tim became more involved in the office and is now a project manager and estimator.
With his family behind him, Patrick Butler has led his family company to since build a solid reputation of providing excellent workmanship on all projects that have been undertaken – these range from small renovations to complex, multi-million-dollar design builds. 'We strive for excellence in quality work, staying on budget and keeping on schedule,' says Patrick.
In addition to management expertise in the continuing form of the Butler family, estimating and budgeting abilities represent another major area of focus that provide 21st Century Concrete with the skills and tools necessary to deliver highquality solutions time and time again. The team uses the latest computer software, combined with jealously-guarded industry know-how, to give their client companies and organizations an accurate cost estimate of their project up-front, minimising the potential for extra, unforeseen costs during the process. Furthermore, by using state-of-the-art computer scheduling tools, the firm ensures that every phase of the client's commercial concrete project is well-planned, and stays on deadline.
None of this would be possible, it must be said, if it were not for the master craftsmen and artisans that make up the 21st Century Concrete team. There is no shortage of skilled labour in the Cleveland area, and this gives the company the luxury of hiring and utilising only the best tradesmen in their field, in order to ensure that the client's concrete project is of the highest quality, and has a fantastic end result. 'Our company hires only the best employees, master craftsmen and artisans with experience and certifications in the industry,' Patrick establishes.
'21st Century Concrete is affiliated with the American Concrete Institute, and follows ACI standards and guidelines for all our projects. All 21st employees are ACI-trained and -certified.'
Today, with their shared 60 years of experience in the concrete industry, Jim and Gary are proud to see their company continue to flourish as it specializes in all types of commercial concrete projects, from parking garages to arenas. The future goal of 21st Century CC remains evermore focussed around the continuing growth and support of the Butler family, and with each new addition to the team, the firm will not cease to grow and serve more businesses and organizations in Ohio as the premiere commercial concrete contractor in the state.