Posted on 20th July 2016
Sewer Collapse Hits London Train Services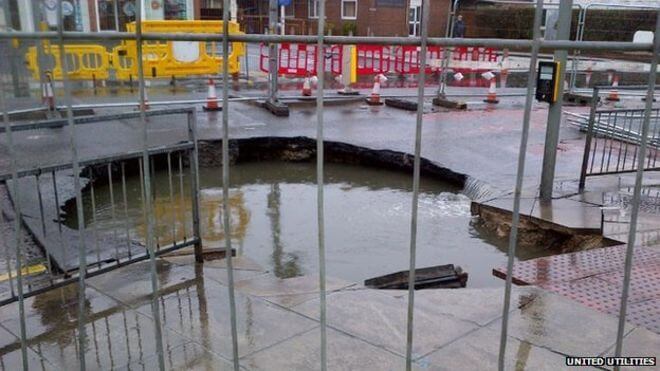 A large hole that appeared under a railway track in the Forest Hill area of South London has turned out to be due to a collapsed sewer.
Engineers from Network Rail and Thames Water confirmed the discovery of the active sewer, six metres below ground, in the early hours this morning. A repair plan is now being drawn up but all trains through the area are cancelled for now.
Network Rail area director Paul Rutter said: "Following investigations, a collapsed sewer has been found at the site of the hole which was found on the railway in the Forest Hill area yesterday. Network Rail engineers have been working with our counterparts at Thames Water throughout the night to identify and fix this problem as quickly and as safely as possible.
"Because of the location of the hole we are unable to run trains on this track through to London Bridge this morning and it looks likely that disruption to services will continue throughout the day. Passengers are advised to check before they travel and allow extra time for their journeys. Further details will follow as soon as they are available. We apologise sincerely for the disruption and assure passengers both Network Rail and Thames Water are working hard to restore the railway to full capacity."
Danny Leamon, Thames Water's senior operations manager, said: 'We're acutely aware of the importance of this rail route. Our specialist teams worked through the night, and they'll continue to work as fast as possible today to get the pipe fixed and help Network Rail get the track reopened.
'Our sewer is below the track, but it is too early to say whether the sewer pipe is the cause of the sinkhole.'
He added: 'This is an extremely complex job as the pipe is in a difficult location in the tracks and six metres below the ground. Engineers hope to finish repairs later today but we're unable to put an exact time to it at this stage.'