Posted on 16th November 2016
Kebony Cladding Exceeds Expectations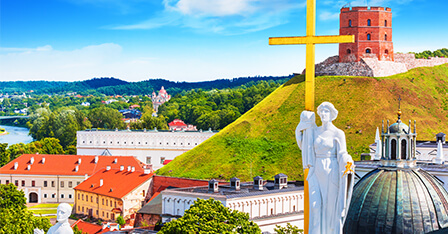 Kebony Cladding Exceeds Expectations
Architectural firm Arches has recently created a contemporary, eco-friendly villa within close proximity to Vilnius, the capital of Lithuania and the country's largest city. Clad in 650 square metres of sustainable Kebony wood, this unique property has been built to complement the scenery, with natural timber cladding and irregular pitched roofs, characteristic of the neighbouring surroundings and in harmony with the hillsides and pine trees; the villa strikes the perfect balance with an architectural style that is simultaneously modern and traditional.
The clean, angular design creates a minimalist exterior with Kebony as the prime material contrasting against the black slate at the building's base. Architect, Arunas Liola, aimed to design a structure that is both ecologically friendly and striking in appearance, interweaving natural materials with a bold sculptural form. The firm has frequently chosen to work with Kebony due to the fact that it is a natural material but with the resistance to stand up to testing conditions far better than softwood. The quality of the wood, and through the skills of an exceptional carpenter, meant the timber could be sculpted and worked with easily for this particular project. Kebony requires no additional treatment even when used as an external cladding, the material simply develops a silver-grey patina which will allow the house to adapt naturally to its surroundings over a period of time.
A recent study by Norwegian environmental consulting firm Bergfald & Co. demonstrated that Kebony wood has a substantially lower carbon footprint than its tropical hardwood equivalents. Kebony is suitable for both internal and external applications that demand high performance and great aesthetics including: decking, flooring, cladding, roofing, windows, indoor and outdoor furniture. Over time Kebony acquires its characteristic silver-grey patina whilst not losing its performance characteristics.
With improved durability and dimensional stability, Kebony is becoming increasingly the choice of leading architects and developers enabling them to use wood in projects without causing environmental degradation. Kebony has been used internationally in projects from commercial, public, residential and marine, for example Hunter's Point in New York, the Mary Rose museum and both residential and commercial buildings on the UK's seafront.
The patented Kebony technology is a patented process that enhances the properties of non-durable wood species to give them similar characteristics to the best performing woods. Through a sustainable process wood species such as pines and some non-durable hardwoods are impregnated with a bio-based liquid derived from agricultural crop waste. With the addition of heat, the furfuryl polymer is permanently grafted into the wood cell wall. By polymerising the wood's cell wall, the softwoods permanently take on the attributes of tropical hardwood including high durability, hardness and dimensional stability, without the need for tropical deforestation, whilst also resulting in a high performing, beautiful wood product.
Arunas Liola, Architect at Arches commented: 'Every time we use Kebony we learn more and more about its creative capabilities, the possibilities are endless. It is the perfect sustainable, natural and multi-purpose material for our designs, always providing an impressive final product with a striking and natural appearance.'
Gytis Korzinskas of HOTA, Kebony's distributor in the Baltics added: 'This is a remarkable project and it has been fascinating to see how such a modern architectural triumph has integrated itself beautifully into its surroundings. We at Kebony are so pleased to have been involved in such a project, and look forward to seeing what the team at Arches can design next.'
Jamie Smith
020 7630 3836
www.thecommunicationgroup.co.uk