Posted on 22nd December 2016
Dec-16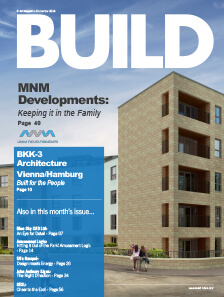 Welcome to the December 2016 issue of BUILD Magazine.

As the year draws to a close we showcase some of the very best firms, and the individuals driving them, from across the construction and real estate markets.
Among this number is Edinburgh based MNM Developments, a family run residential development firm specialising in high end properties and high quality buyer support.
In addition, we showcase the work of BKK-3 Architektur ZT-GmbH, an Austrian architectural
company founded by our Architect of the Year Franz Sumnitsch, who proudly talks us through his work and how he aims to achieve excellence in every project.
As part of our BUILD Leadership Awards we explore the work of Blue Sky CAD Limited a young and enthusiastic architectural firm that has established a high reputation as a professional practice that refuses to compromise.
With the leaders, innovators and true geniuses of the property, construction and engineering markets converging to offer the very best comment, news and features, December's issue of BUILD Magazine makes the ideal read for the Christmas break.
We hope you enjoy this issue and would like to wish you a very Merry Christmas and a Happy New Year.