3sat – TV Setdesign (Kulturzeit, nano, scobel)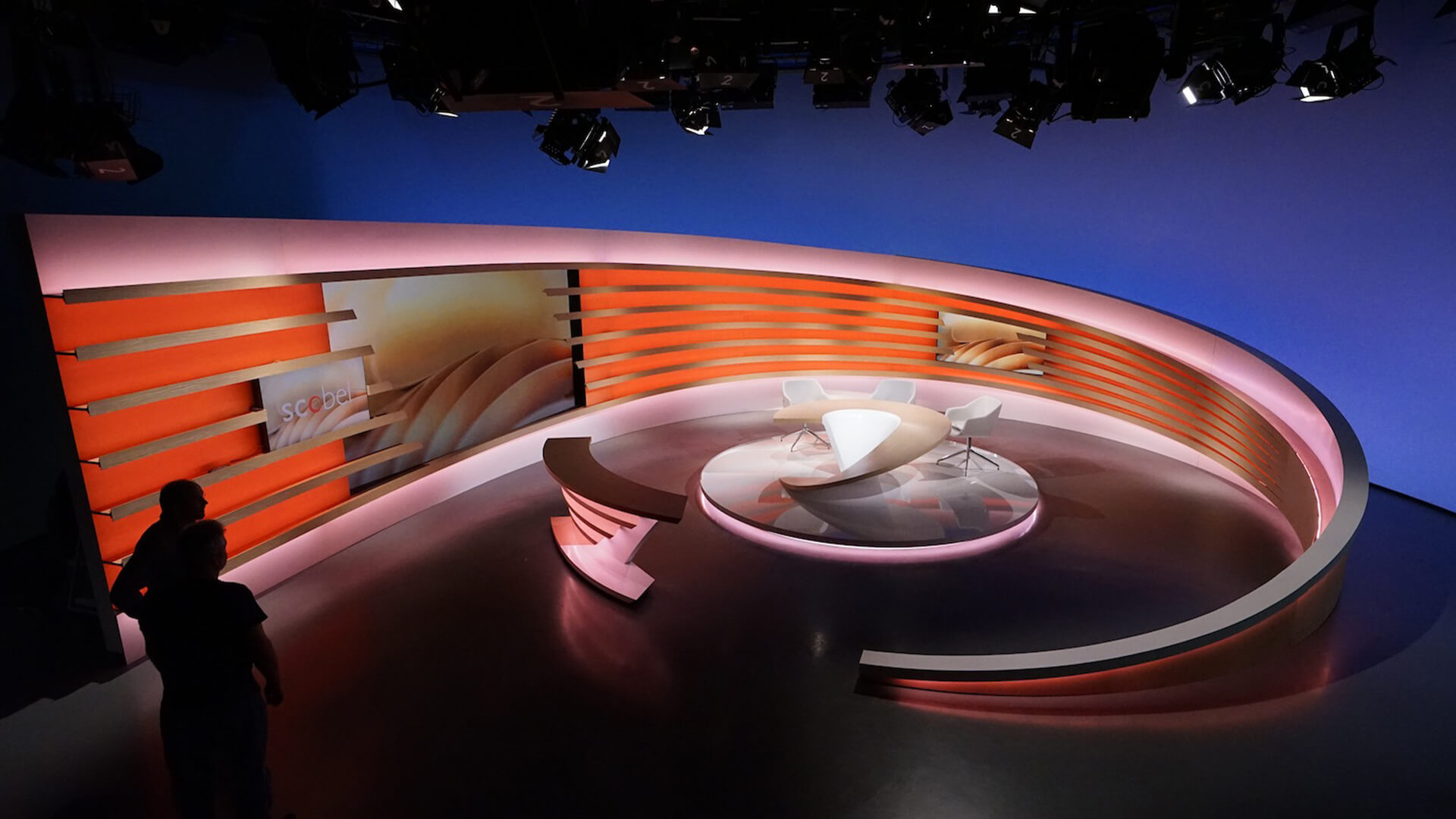 The setdesign for the three major scientific and cultural 3sat television shows explores the connection between brand identity and space.
All three designs are based on the shows logos and provide a seamless cross-fade from on-air design to the opening shot. The four elements of the `Kulturzeit´ logo and the red circle of the science program `nano´ become scaled up elements in space. The setdesign for the `scobel´ talkshow is derived from the shows´ keyvisual, the Nautilus shell spiral. In this way each of the designs is individual but unified to one cohesive and recognizable 3sat brand appearance.
The alignment of the triangular walls with their illuminated lamellas generates the visual illusion of the `Kulturzeit´ logo from the first point of view shot. The tracking shot dissolves the visual illusion and unfolds the irregular spatial composition of the studio. 
The elements of `nano´ are assembled to a gradual alignment in space. The expansion of the circle builds in segments provides visual depth and a variety of distinct shots. The circles consist of a low-resolution LED dot matrix, that generates an overall scientific look and futuristic atmosphere.
The `scobel´ studio starts with a volute table for the round of talks and extends further in a spiral shape with the bar table and back wall with integrated media screens. The horizontal lamellas reflect the interdisciplinary concept of the TV show by symbolizing the different scientific directions, that merge into one direction. The geometry of the set provides a dynamic, but centered composition and offers depth and variety for the cinematography.

Banozic Architecture/Scenography´s creative ideas originate and develop in between architecture, the visual arts and object design. The exploration of the potential interactions between these fields, leads them to the fusion of architecture, furniture, products and graphics. For more than 10 years, Banozic Architecture/Scenography has been providing all architectural services from concept to execution, as well as furniture design, graphic design, exhibition and media design to clients.
In finding new combinations of architecture and media surfaces the studio adapts to new technologies and works in a close collaboration with media experts. This enables them to take experimental steps in the development of new hybrids of space, unfolding new programmatic and spatial relations and qualities.
The project was commissioned and executed by the company Atelier Markgraph in Frankfurt